The weighing scale is a classification of the weighing instrument.Usually, we can divide it into mechanical and electronic type, it is cheap and can help people monitor their weight changes effectively. Weighing scales can accurately weigh the body's weight, and through daily body weight changes, reflect weight control over a period of time. Weight management is the basis for health management, so every family should at least have a weighing scales, to assist us to know about the weight of our owns family members and it is also an important item to ensure family health. Xiaomi Inc. has released a smart hardware Xiaomi Mi smart scale which not only can weigh the weight of its entire family members but more importantly it can record and store each person's weight or change by using mobile phones. Let me show you the Xiaomi Mi smart scale today. Get it the cheapest here!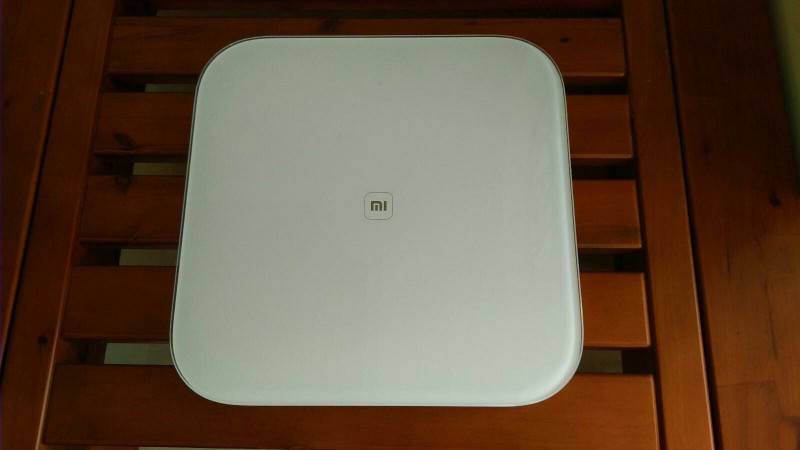 Unboxing of the scale: Xiaom Mi smart scale appearance size is 300mmX300mmX28.2mm, weight is 1.9KG, weighing range from 5KG ~ 150KG. Packaging box center is an MI logo and there are words like upward, fragile, do not let it wet and do not step on it.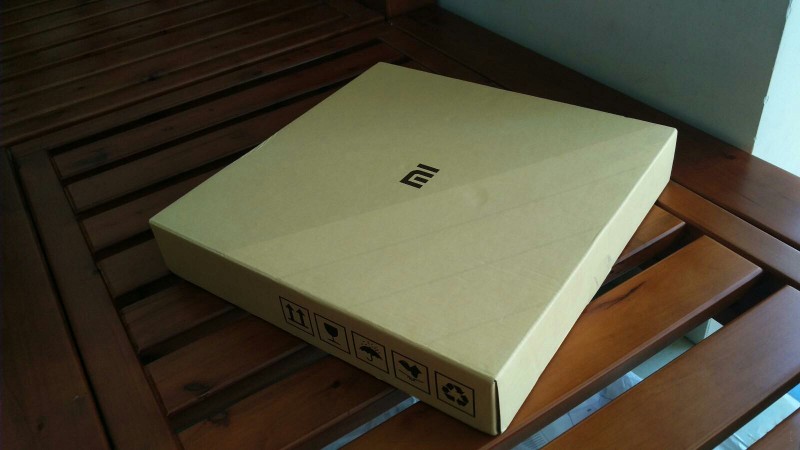 Next, we will open Xiaomi weight scale step by step. I do not know why but I am very excited each time unboxing of a Xiaomi product. Although the appearance of the products is not a secret, it felt quite different for personally unveiling the veil.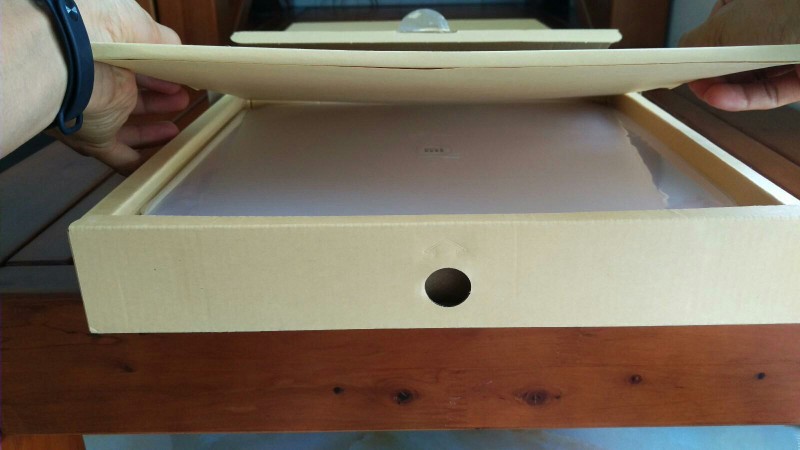 Every step must be careful, just lift up Xiao Mi smart scale a bit and you can see the white toughened glass panel, even without fully open you can sense the exquisite of the panel. Super transparent low-iron glass, also known as low-iron glass, high-transparent glass. It is a high-quality, versatile new type of high-grade glass, with light transmittance up to 91.5% and powered with crystal clear, high-grade elegant features.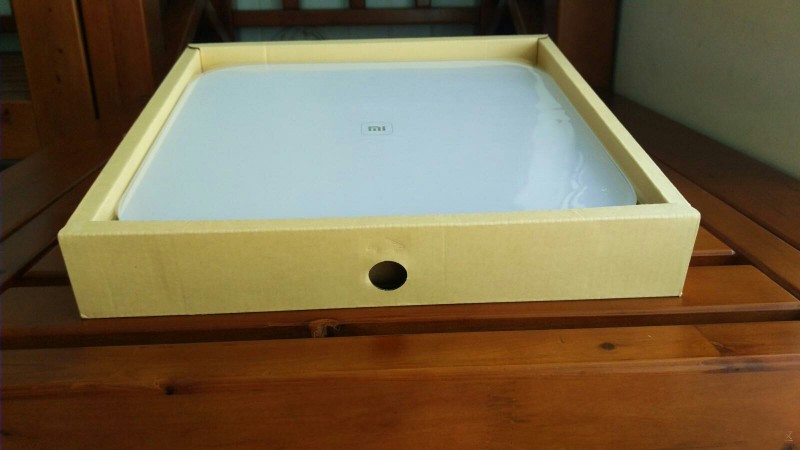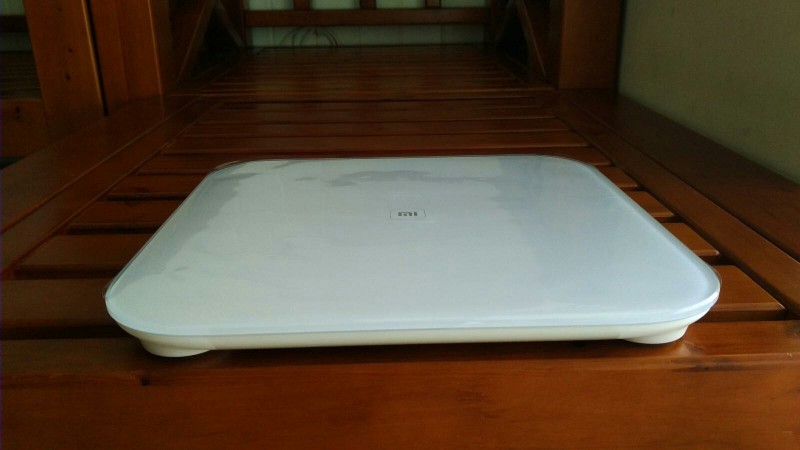 Many products of Xiaomi are mainly in white, and to apply white color so well in the products involve a quality workmanship. There is a LED display area at the top of the panel. This display area consists of 161 LED lights with a light sensor below the display area that can automatically induce the changes in light. Of course, this LED display can only operate after I installed the battery.
At this point, let's take a look at my wonderful unboxing process, we have to treat Xiaomi product like appreciating a piece of art.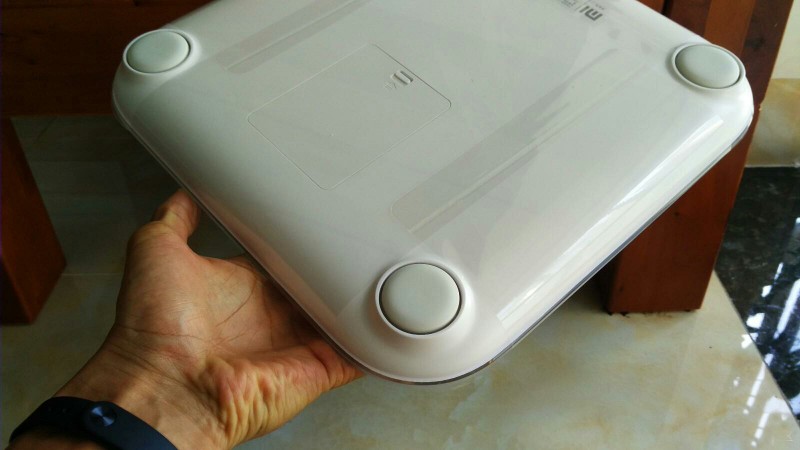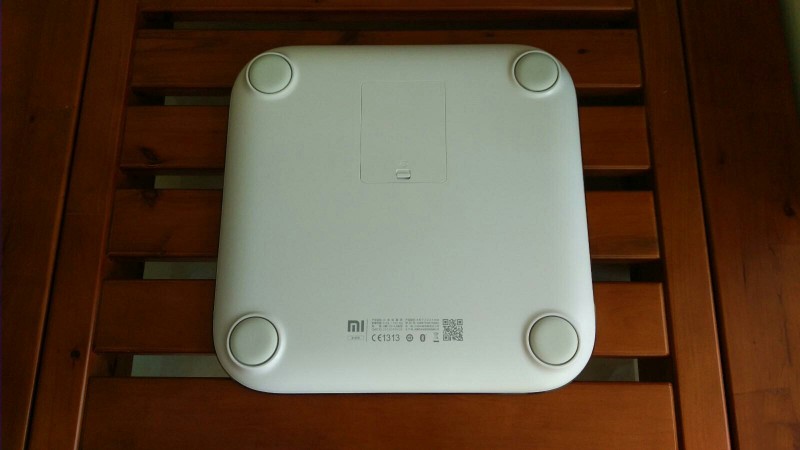 The backside of the Xiaomi Mi smart scale is made of ABS material, which has a good performance in waterproof and moisture proof. It is composed of four feet and a battery compartment. The four feet are the key components of the whole Xiaomi smart weight scale and all changes in perceived weight are obtained through force of four feet. The internal G-shaped sensor in the feet can measure the weight accurately in catty, kilograms, and pounds. The default measurement unit is catty. Through the small battery compartment button, you can switch between catty/kg/ lbs, it is very simple.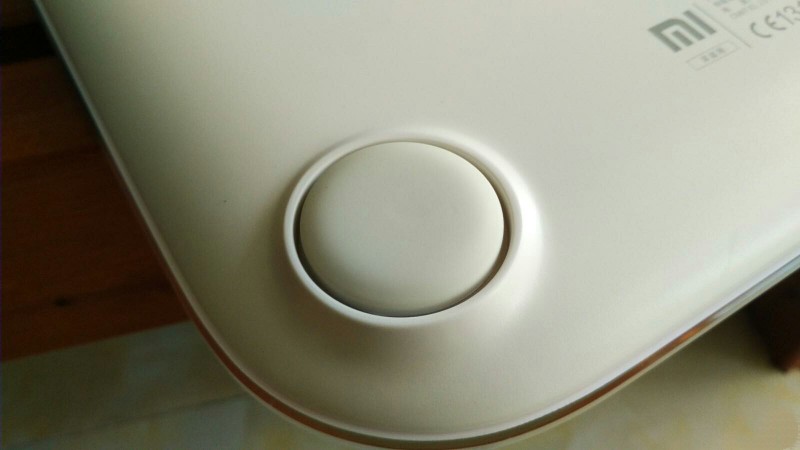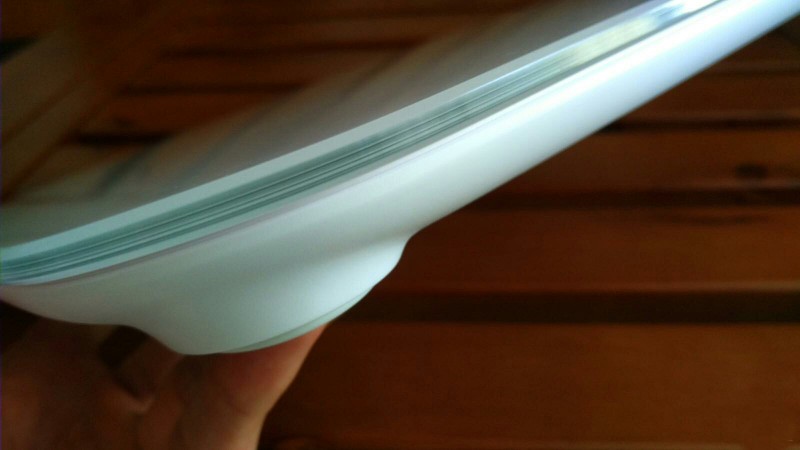 The battery compartment adopts the passive open mode, you just need to gently press the open button and the battery compartment will automatically open, it is very convenient. Xiaomi Mi smart scales is driven by 4 battery and it is considered high power consumption since it is using Bluetooth technology.But do not worry, using our Mi battery, under normal circumstances, it can easily last a year and a half without problem.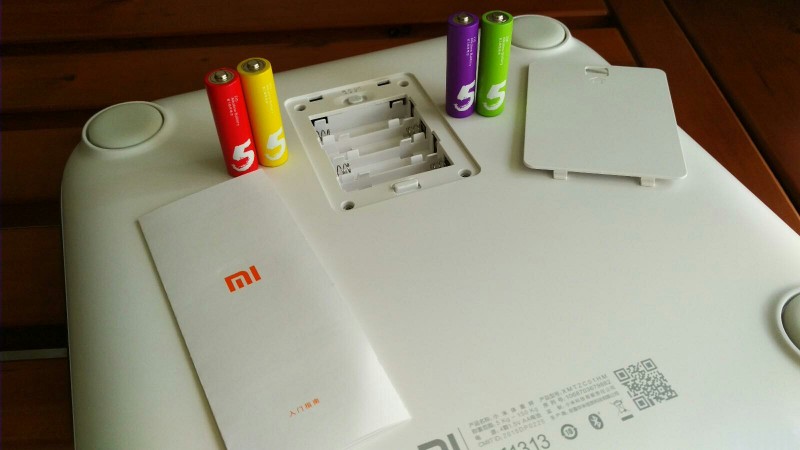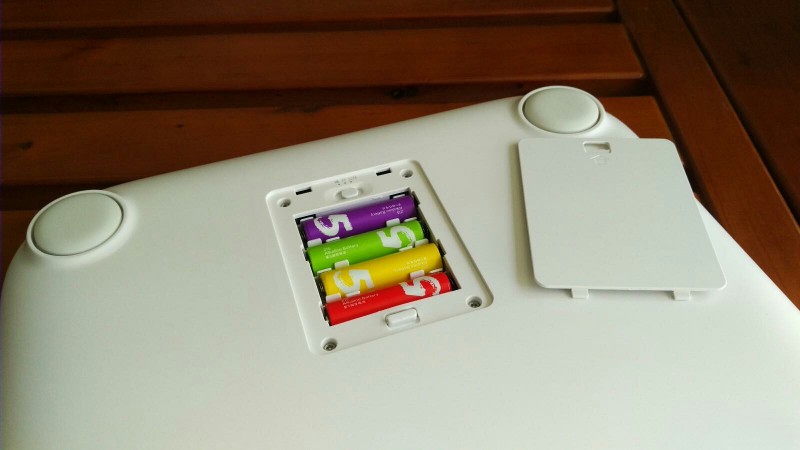 Next, let me show you how to install battery by single hand, it is easy, right?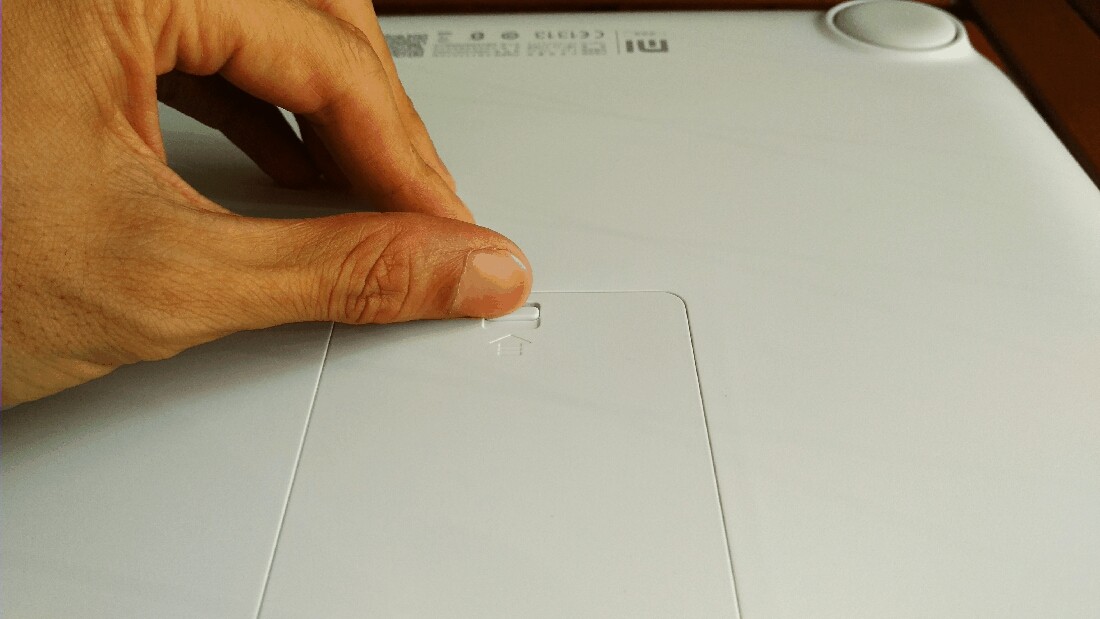 The user experience on APP: First of all, for the first time user, first download a Xiaomi Mi smart scale APP, open the manual, scan the QR code above and you will automatically jump to the APP download page, follow the prompts to download and install it. I believe that most of the people should be familiar with this operation since the Mi Band is so popular now, many people should have installed this app on their mobile phone already.
Mi scale app is used jointly by Mi Band and Xiaomi Mi smart scale, of course, smart watches, smart running shoes, and other sports devices can be used in this app too. To binding with the phone in App, you need to switch to the Xiaomi smart weight scale binding page, then place the scale on the flat surface and stand on the scale to weigh and it will automatically bound.
Play around the scale: weighing without the use of mobile phones, after your mobile phone binding with Xiaomi Mi smart scale, the weighing record will be saved in the scale. Each time you turn on the APP within 10 meters from the scale it will automatically be synchronized the weight records. It can be binding multiple mobile phones to Xiaomei weight scale to let your family members access their weight records more convenient. The LED screen will display the low battery icon to remind you of battery replacement.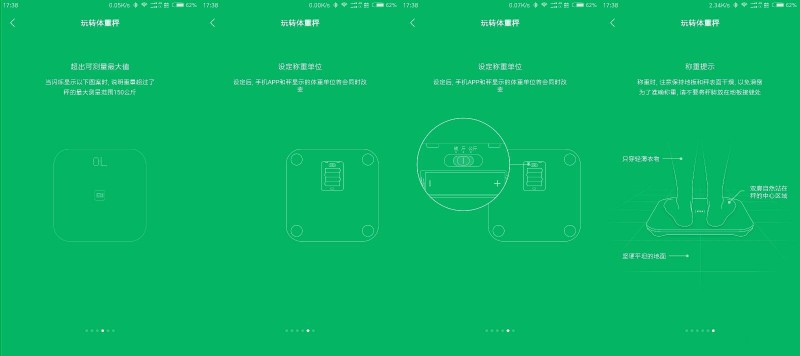 Now it is the peak period of having two children, to weigh the weight of the baby is always a problem so Xiaomi helps you to tackle this problem with the baby weighing features. The adult can weigh their own weight first and hold the baby for weighing one more time when the reading is still, isn't it user-friendly? Of course, you can also set up his own account for the baby in order to accurately record and analyze his growth record. Xiaomi Mi smart scales can automatically determine the identity of members of the family who stand on the scale and can be stored up to 16 members at most, definitely enough to be used in an ordinary family.
The actual use of Xiaomi Mi smart scale: Xiaomi smart weight scales can reach 100 grams of precision measurement, considered the world leading level. Let's take a look at the accuracy of the actual weighing with the scale.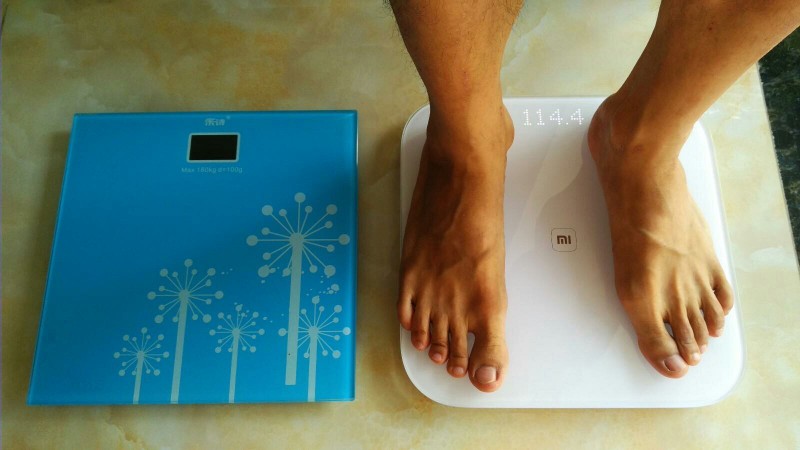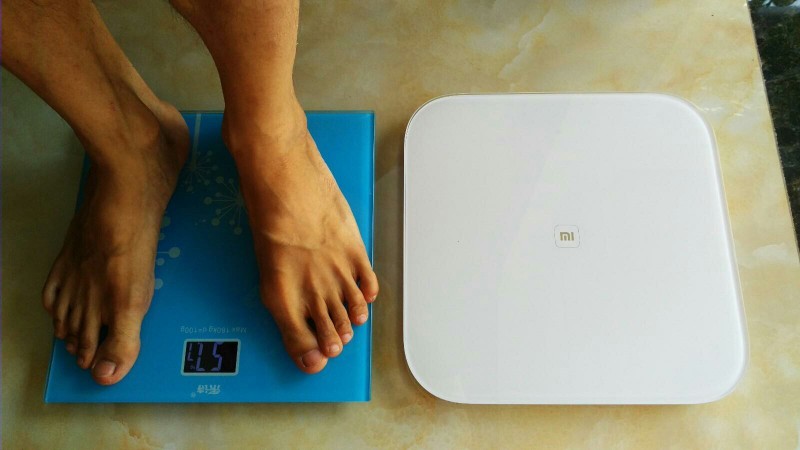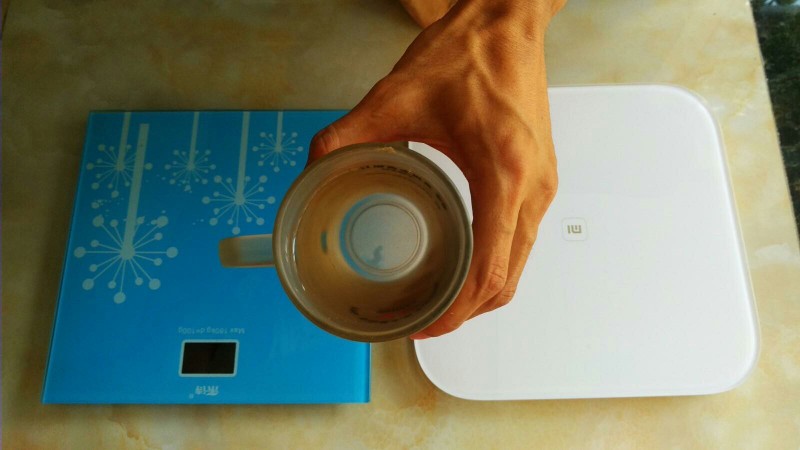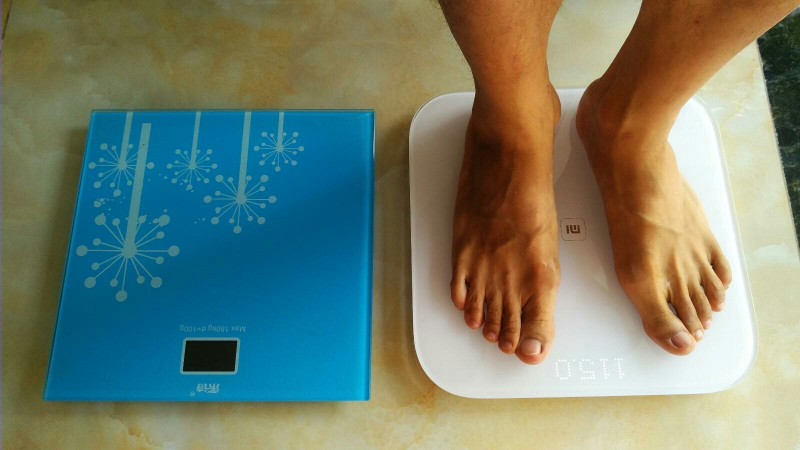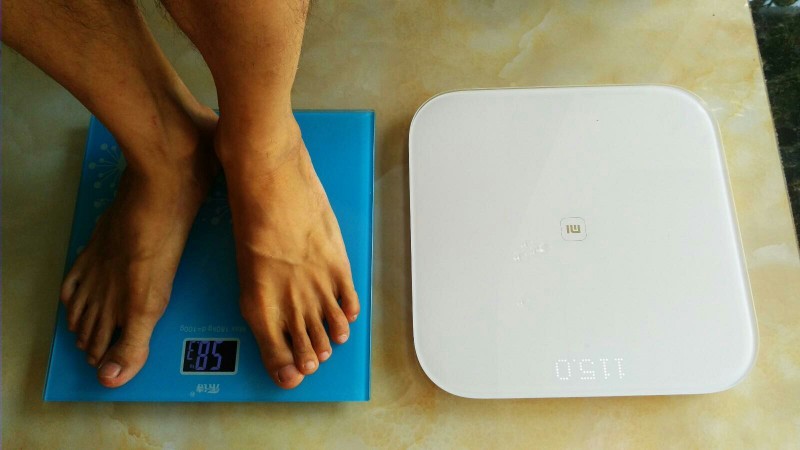 The young man could not bear to climb up the scale to see if he had been heavier recently. Then take out his sister's pig and partners to weight one by one. This is very lively now.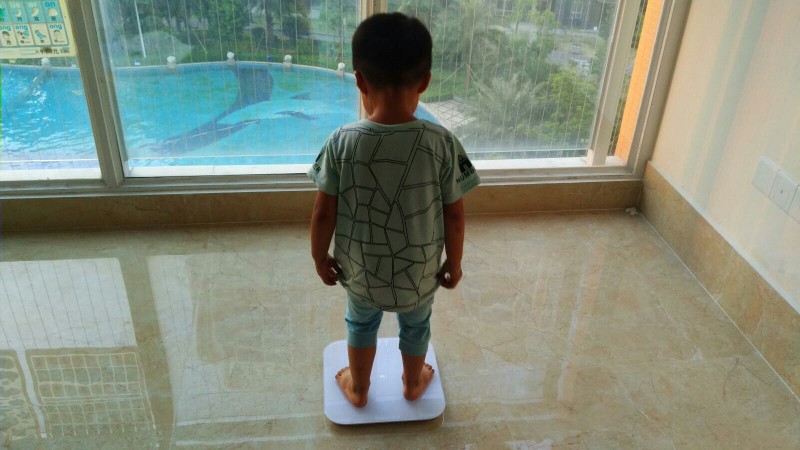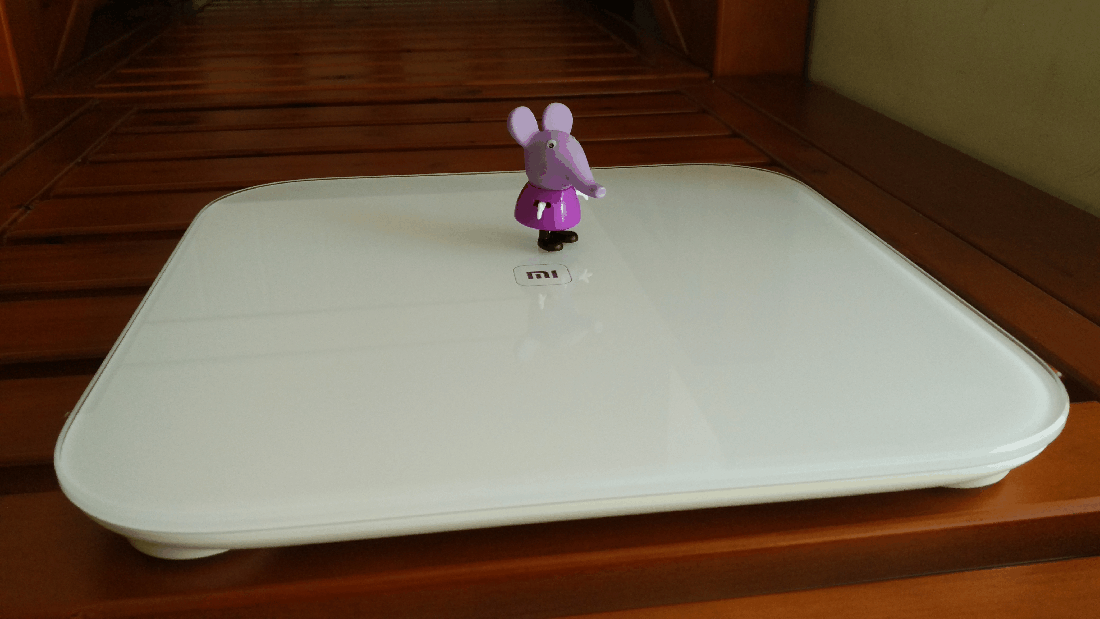 Summary, Xiaomi Mi smart scales, a scale that can be weighing for your whole family and help you keep the weight records from time to time, you deserve to own one. Here is the best deal you can find online!