Full screen nearly perfect experience, super cool
321 days ago, in front of the audience at the packed gymnasium of Beijing University of Technology, Xiomi's CEO Lei Lun took out an unexpected mobile phone Xiaomi Mi Mix from his pocket. The audience applauded with cheer as they just witnessed the beginning of the full screen mobile era. Exactly 321 days later, at the same gymnasium of Beijing University of Technology, Lei Jun, with perfect posture, in front of the audience presented the new model mobile –Xiaomi Mi Mix 2 phone. Get it the cheapest here!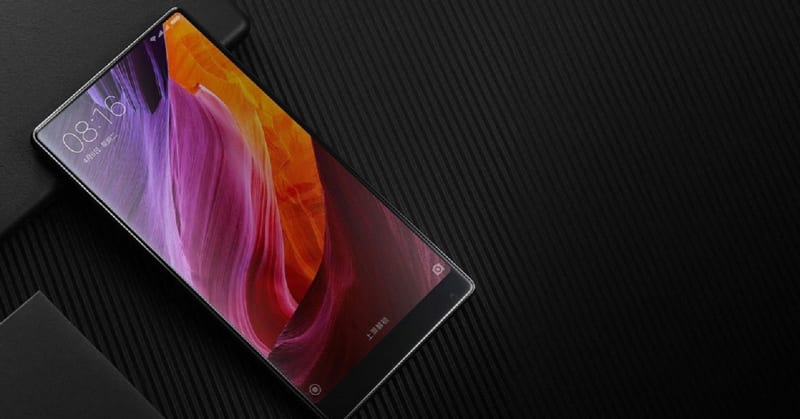 With a narrow bottom border, a picture-perfect 18:9 aspect ratio screen and an appropriate weight, the Xiaomi bezel less phone is mature, improved and filled with more features and revolutionary cameras, which makes people wonder what kind of product it is that has turned the concept into reality. Is that enough to make people exciting? Now, let us go through this article to understand that!
It is good to return to rationality from concept
A year ago at the Xiaomi press conference, Xiaomi CEO Lei outlined that the traditional earphone and range sensors removed, that become "concept" device, the Xiaomi Mix. Xiaomi tried it as a limited edition, and was sold at good price. So, this year, Xiaomi is going with mass production of Xiaomi Mi Mix2.
Unlike its predecessor Xiaomi Mix, the new Xiaomi Mix2 gave up the cantilever beam piezoelectric ceramic technology, instead uses a hidden traditional receiver. Moreover, this receiver is placed in the upper frame of the machine, which solves the issue of poor call quality of Xiaomi MiMix phone.
Compared with the previous model of Xiaomi Mix with 6.4-inch 17:9 aspect ratio screen, Xiaomi Mi Mix 2 for a more slender 18:9 aspect ratio screen. This not only to get rids of the Xiaomi Mix "low fat" image, this also allow to have a better grip on the phone.
The bottom of the frame is different compared its predecessor. In order to get closer to the "Full screen" visual effects, Xiaomi Mix2 uses COF screen technology, and Xiaomi Mix on the use of COG technology where display chip is tied directly to the display glass, However, COF will display chip encapsulated in the FPC, and folded to the screen behind, this better design allows the antenna clearance area for Xiaomi Mix 2 allowing narrow bottom frame.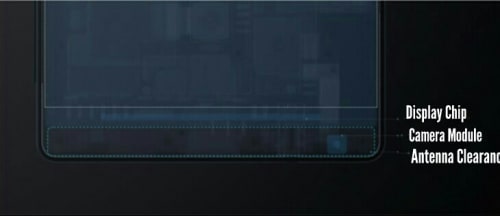 So, how is MIX 2 compared to MIX?
Mi Mix 2 mobile has two versions: one the "concept" device with unibody ceramic design, widely talked about borderless edges and ceramic back, uses a mortise and tenon joint for attaching the display to the body, certainly the best buy.
The other version uses aluminum alloy frame, which easier to manufacture, and more lightweight, though less artistic, but a bit more practical. The back of the phone is almost the same as the previous version of Xiaomi Mi Mix2, the camera and the fingerprint metal ring and were located conveniently to reach out. However, there is a slight bump due to the projection of the camera.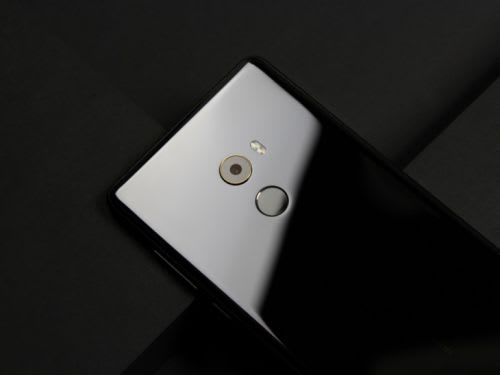 Overall, a year of thought process has made Mi Mix 2 more mature than its predecessor. Unlike its predecessor, this is packed with cutting edge technology, less concept and more practical. A return to practicality is welcome move, after all a mobile which is not handy doesn't make big in the market.
18:9 Full screen pros and cons
The most interesting feature of Mi Mix2 is its full screen. The new 18:9 full screen in addition to visual enhancement, is in fact added more miles to the Xiaomi Mi Mix2 smartphone. For example, with Xiaomi Mix2 the number of display words is a big elevation when compared to its predecessor and Xiaomi 6 (http://www.stiwe.com/the-in-depth-review-for-xiaomi6/)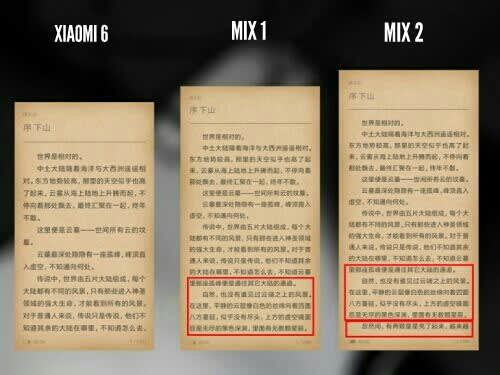 You see more content from your favorite social media on display.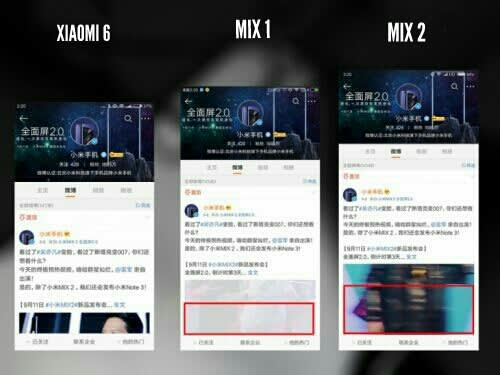 However, this does not mean that the full screen is perfect enough, there is still a lot of Apps that the Xiaomi Mix 2 full screen cannot fit in.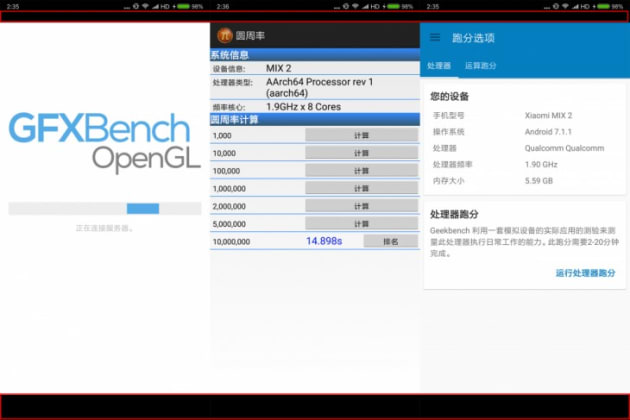 When playing video, this black border is even more unavoidable.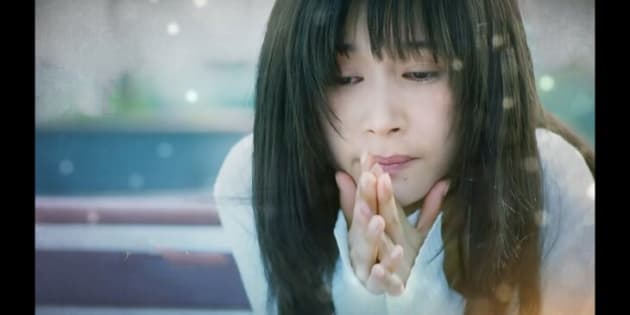 For now this is expected as 16:9 aspect ratio has been used for many years in mobile phones. It till take some time to switch from 16:9 to 18:9. The good news is that, with Android 7.0 and with the efforts of Xiaomi, Google has relaxed the screen ratio restrictions, and even started to encourage developers to adopt to 18:9 aspect ratio. As full screen phonesvbeginning tosurge, I believe the adaptation of 18:9 screen will be sooner and this aspect ratio problem will be eased.
The photos of the Spit trough are finally upgraded
One has to be admitted that camera feature of Xiaomi Mix was the biggest mistake of the mobile world. In order to ensure that the camera does not protrude, the Xiaomi Mix used 16 MP camera, whose features were pretty common which does not justify its price.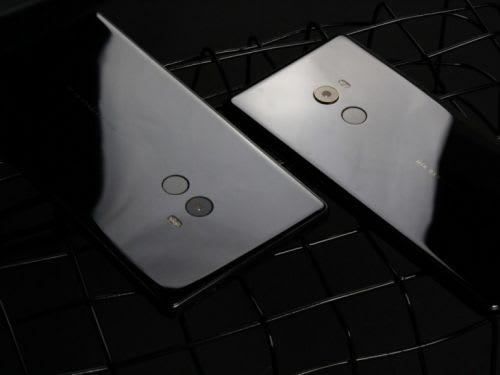 Fortunately, Xiaomi realized this, With Xiaomi Mix2, the camera features were upgraded features, and it has a 12 MP IMX386 camera, with 1.25μm Unit pixel area and with f/2.0 aperture. Over these, Xiaomi added a four-axis stabilization technique. So, how well these features upgrades help Xiaomi Mix2 camera? Contrast in dark light test: Xiaomi Mix on left vs Xiaomi Mix2 on right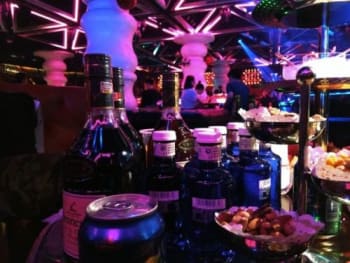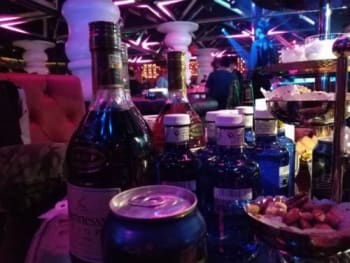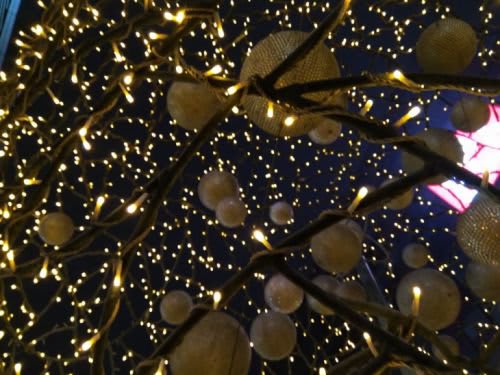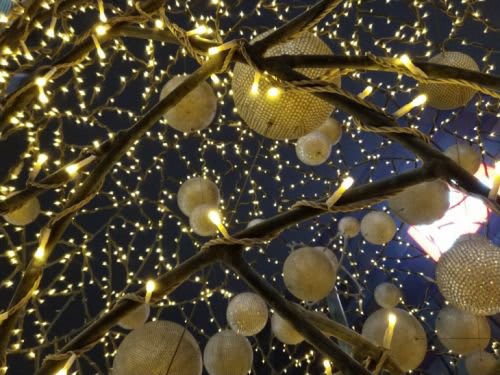 Under sufficient light test: Xiaomi Mix on left vs Xiaomi Mix2 on right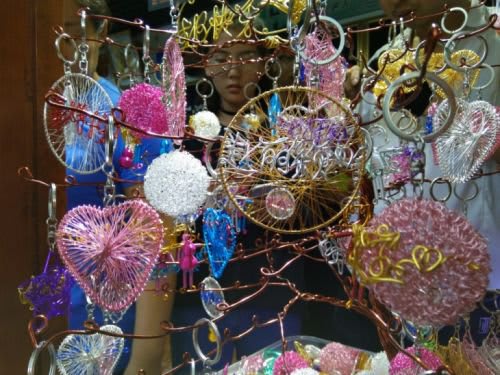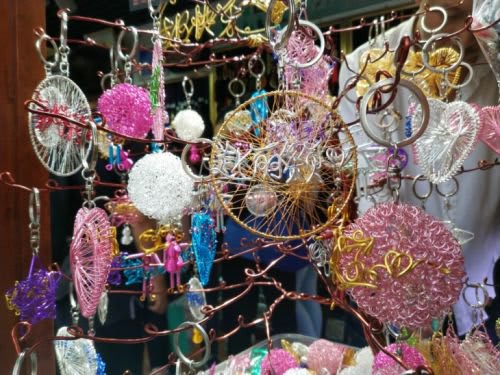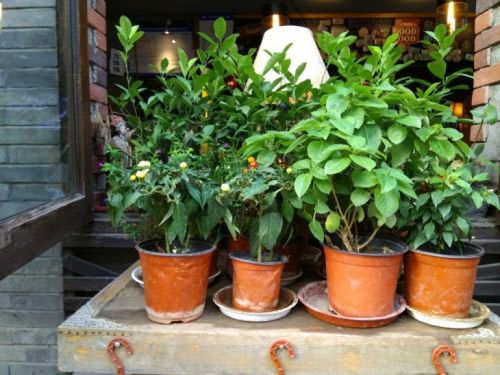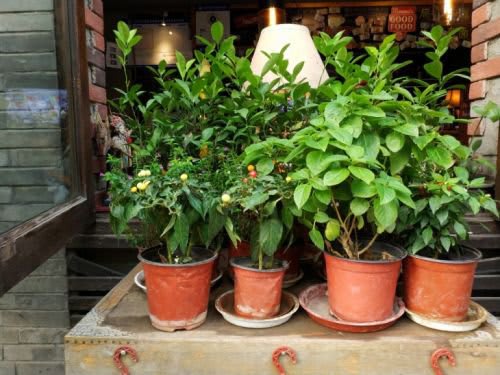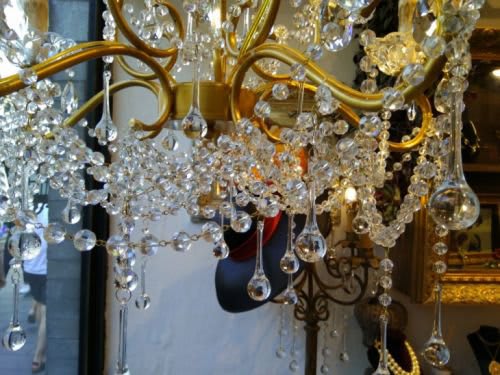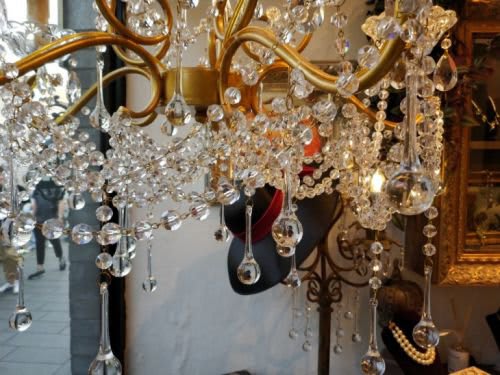 Compared with its predecessor, Xiaomi Mix 2's camera shows improvement in exposure of light, giving a better picture quality, both in the dark light and in the normal light. The sharpness of the picture is higher, the colors are more elegant. The noise control under dark light is also better than the Xiaomi Mix. Although there are still gaps in photo quality between Xiaomi and flagship handsets, Xiaomi Mix 2 can able to reach conventional level of flagship handsets.
Snapdragon 835, resilient performance guaranteed
When compared to Xiaomi Mix, the new Xiaomi Mix 2 provides better performance, thanks to its octo-core Snapdragon 835 processor. Xiaomi Mix 2 has 64/128/256GB variants with 6GB of memory. Now, you get special edition Xiaomi Mix 2 with 128GB storage with 8GB memory, the highest available in the industry. So there are lot of choices for the users.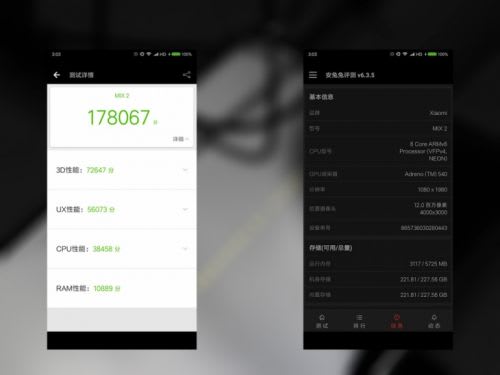 In fact, the Xiaomi 6 uses Snapdragon 835 processor, and the processor performance and power consumption is excellent. Xiaomi Mix 2 earns 178076 points in ANTUTU benchmark scale, making it into top 5 ranks, hence you do not have to worry about the performance. Of course, there are also regrets, Xiaomi Mix 2 is not yet suitable for the high rate mode, So playing your favorite Glory of the King have to be played with 30 frames per second. As for the charging Xiaomi Mix 2, still support 9v/2a QC3.0 fast charge, however it still does not have the latest QC4. The 3400mAh battery, which the same as Xiaomi 6 charges completely in about 100 minutes or and half an hour charge ups the battery by 45%. The battery is good though. With 40% of charged phone, I used it from about 4 hours (afternoon to evening), did photo shoots, played Glory of the King, watched videos, and still had 3% of charge left.
In addition, Xiaomi Mix 2 has made some changes, 3.5mm headphone interface and infrared function were removed, so you can only use Bluetooth headset side to listen to music and cannot use the phone as a remote control.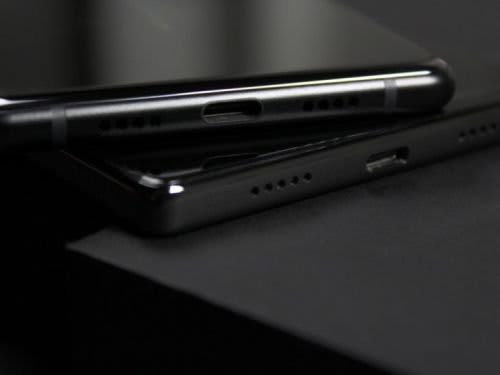 On the other hand, Xiaomi Mixes also have NFC function, making card payments and touch payment more convenient. Xiaomi 6 dual-antenna on the top is also available for Xiaomi Mix 2, so, you can use can connect to Wi-Fi Edge hotspot. In addition, Xiaomi Mix 2 or a 6-mode 43-frequency mobile phone, is currently the most popular standard and almost universally available.
From its inception till now, Xiaomi Mix series for Xiaomi seems to have a special significance. In the last year, the market totally accepted the Xiaomi mobile phones, by virtue of "concept", that got Xiaomi to win back the reputation. Compared to the "concept" of Xiaomi Mix, whether it is the size, or by weight, or the return of the traditional handset, or the upgradation of the camera, you will see the Xiaomi Mix 2 is move towards being sensible. It can be said that if the Xiaomi Mix is a way to let you see the real strength of Xiaomi products, then Xiaomi Mix 2, is for its strength, definitely worth to buy! Here is the best deal you can find online!