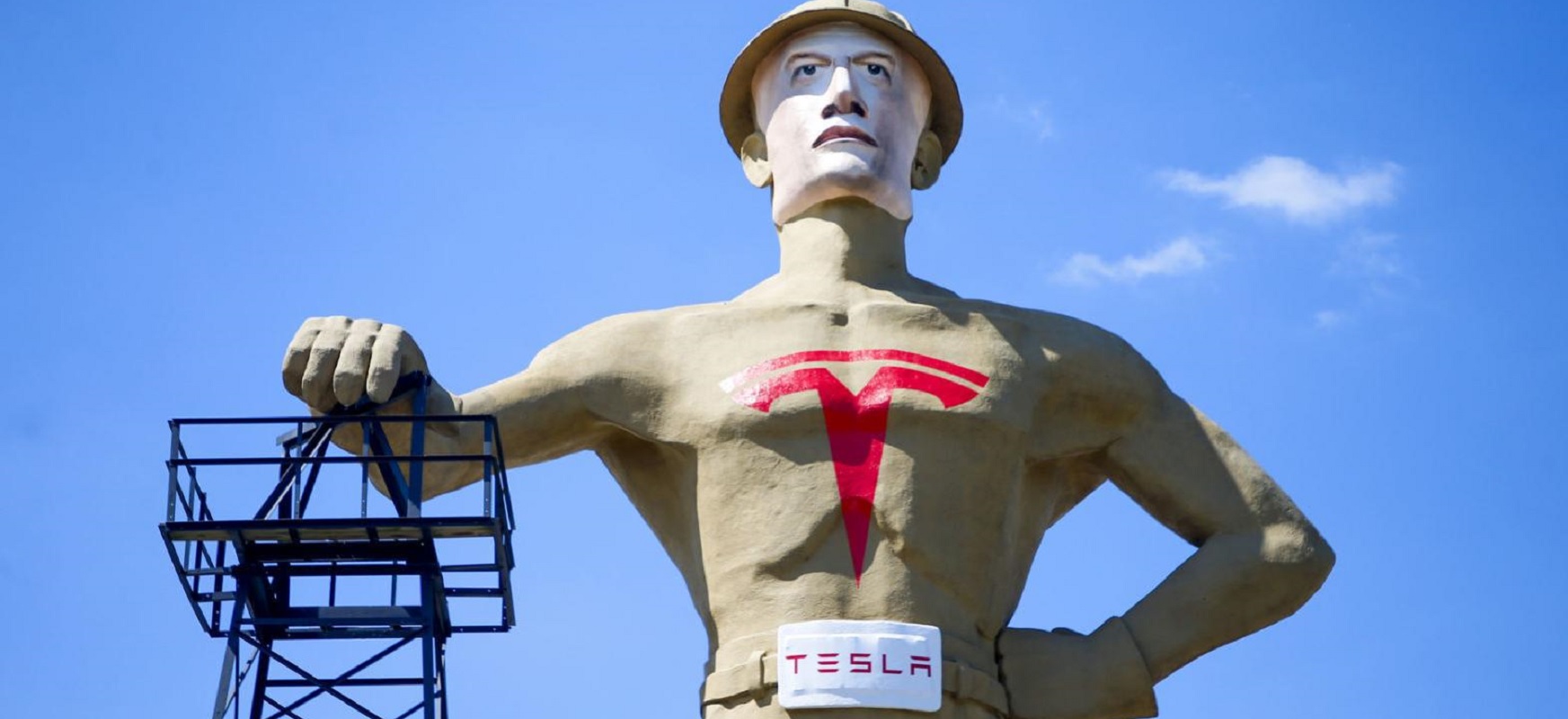 The Golden Driller is a 23-meter tall oil monument in Tulsa, Oklahoma. It is the sixth largest monument in the United States. Now the oilman changed his clothes and became … Elon Musk.
The city authorities are striving to create a new Tesla factory in Tulsa, in which Cybertruck pick-ups would be produced. For this reason, the oiler was repainted Elon Musk.
The 23-meter statue originally erected as a tribute to oil workers from this city has now received a new face, a large Tesla logo on the chest, and on the belt buckle the inscription TULSA has been converted to TESLA. It is strange that no one came up with the idea of ​​renaming the entire city from Tulsa to Tesla.
Tesla, Oklahoma – that would only sound.
In fact, Tulsa was on the short list of cities considered by Elon Musk for the construction of a new factory. Austin, Texas, competes with the city.
Tulsa never restrains entrepreneurs – we simply love them! – said the mayor of the city of GT Bynum, who came to the unveiling of the new version of the monument in his own black Tesla.
It is obvious that Tesla and Tulsa arose in the same spirit. And the city and company were created thanks to pioneers who had great dreams and brought them to life. They all wanted to change the world with a new kind of energy – adds Bynum.
In the near future, Elon Musk, the owner of Tesla, will most likely decide on the location of the future company, although he will certainly be guided by the approach of the city authorities to entrepreneurs when choosing. Over the past two weeks, Tesla has engaged in a dispute with the California authorities, which maintained a ban on working at the Tesla factory. Elon Musk decided to resume car production despite the ban, and bring Alameda County authorities to court. A few days later, the court application was withdrawn.
Musk: Some of my tweets are stupid
In an interview with the service Bloomberg, Musk admitted that he does not insist on all his tweets, because some of them are extremely stupid, but in principle the sensible ones outweigh the stupid ones.
You can't please everyone, especially on Twitter. You can say things that are not controversial, but then you will be boring and no one will be interested. It doesn't change the fact that I would like to withdraw some of the things I said.

– adds Musk.
The upcoming start of the Demo-2 mission
On Wednesday, May 27, the Falcon 9 rocket will launch from Cape Canaveral, Florida, at the top of which there will be a Crew Dragon crew capsule. Inside the capsule will be two astronauts Bob Behnken and Doug Hurley. They will be the first astronauts in 9 years to start their mission to the International Space Station from the territory of the USA.
There was no such Elon Musk yet. A 23-meter entrepreneur looks at the city of Oklahoma
https://ift.tt/3eUmb6w