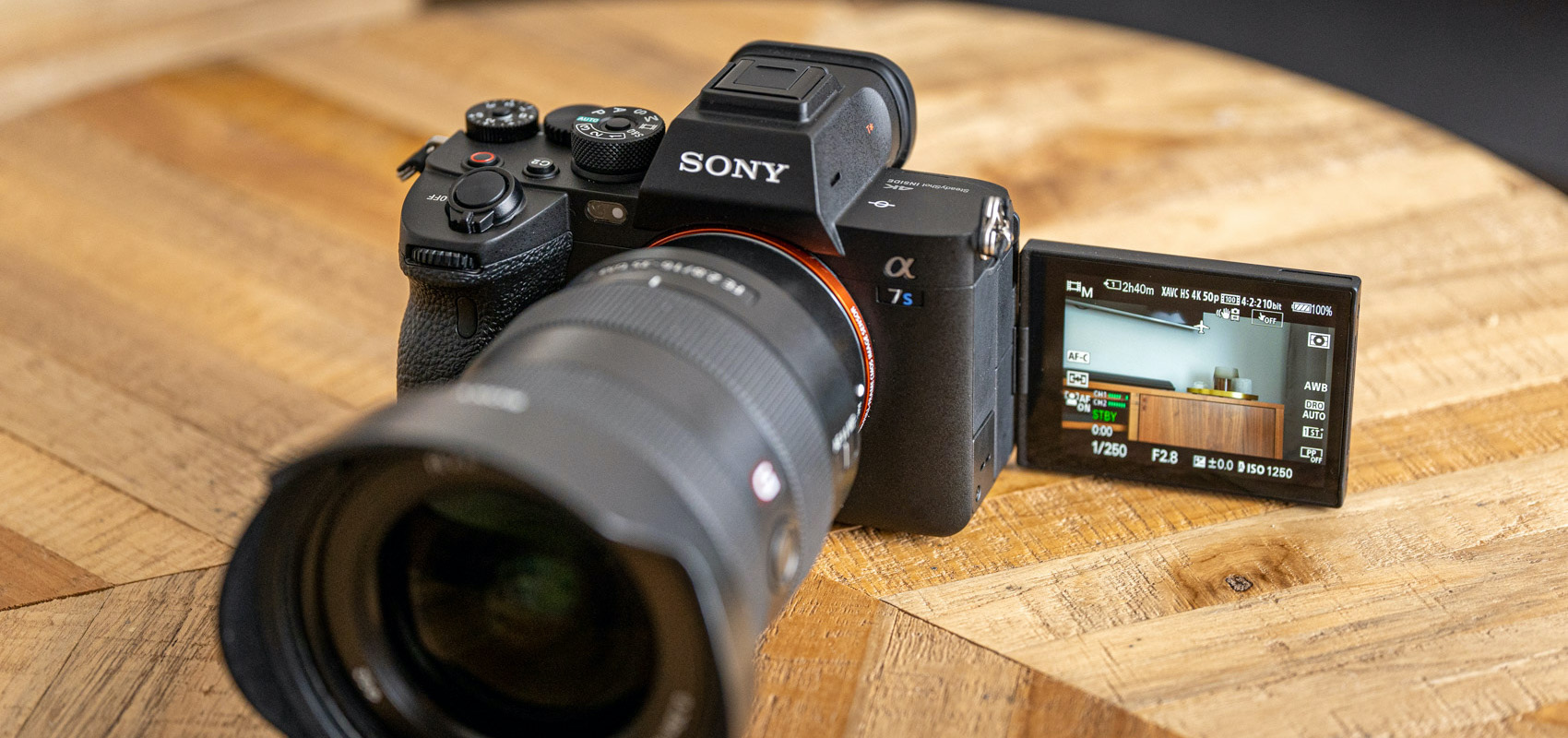 Ladies and gentlemen, that day has come. The long-awaited Sony A7S III, the successor to one of the best filming cameras, has its premiere today. I spent a few days with this equipment, and here are my first impressions.
In recent years, we see more and more interest in the filmmaking market. Today, every company, every event, every product must have its own video. Videos sell, attract customers and build an image.
Today's world of filming could not exist in its present form without two cameras. In 2008, the Canon EOS 5D Mark II began the era of SLR filming. It was a borderline moment, after which many photographers began the slower or faster process of switching to filming.
The second breakthrough camera was the Sony A7S II mirrorless camera from 2015, which redefined the video mode in the camera. This equipment had a whole range of features that previously could only be found in much more expensive cameras.
Since 2015, however, a lot has changed. Virtually every major producer of photo equipment has noticed the potential of filming and powerful – excuse colloquialism – sucking the market. Many people, companies and studios changed their equipment by kilograms, so as not to be technologically behind. Over the past five years, many great filming cameras have appeared, and people who have switched to Sony are increasingly starting to think about Panasonic, BlackMagic, and more recently Canon.
Rumors about the premiere of the new Sony A7S III have been appearing for the last 2-3 years, but we have been led by the nose every time. Many people stopped believing in the premiere of this camera, but that moment has come, today. Sony A7S III officially debuted, and with it a sensational specification.
Sony A7S III eliminates 6 of the 7 deadly sins of Sony cameras.
What was wrong with Sony's A7 series cameras to date? Their greatest sins are:
overheating,
average battery,
large rolling shutter, especially in 4K,
no slow-motion in 4K,
internal write limited to only 8 bits in 4: 2: 0,
the screen cannot be tilted by 180 degrees,
average matrix stabilization.
Sony A7S III completely eliminates 6 of 7 major problems. Image stabilization still isn't perfect, but other than that, the new Sony camera has improved all key aspects. And how!
Virtually every element in the Sony A7S III is new.
The Sony A7S III is of course a full-fledged, full-frame mirrorless camera of the Sony E system. It is based on the Exmor R CMOS sensor with a resolution of only 12.1 megapixels. And although the resolution is the same as its predecessor, we have a completely new sensor with back-illuminated backlight . The matrix is ​​of course mechanically stabilized. In addition, the camera also has a new Bionz XR processor.
The ISO sensitivity is in the range of 80 – 102400 and is expandable to the range of 40 – 409600. Sony talks about 15 EV degrees of dynamic range, and faster reading of data from the matrix allowed to reduce the rolling shutter effect three times compared to its predecessor.
Sony A7S III is equipped with the autofocus system known from the A7R IV, based on 759 phase detection points covering 92 percent. frame. There is also a new eye tracking system that is as much as 30 percent. faster than previous cameras with a Bionz X processor.
Sony is not following Canon's footsteps and is not yet betting on the new 8K technology. Instead, it heavily refines the 4K mode.
First of all, the Sony A7S III finally saves the image internally in 10-bit depth with 4: 2: 2 color sampling. This means much more possibilities for post-production of a movie image than with any previous Sony camera. There is also a new XAVC SI 4K codec, which in the top variant offers a bitrate of up to 600 Mb / s.
Here is a breakdown of the 4K / 100p recording modes. Let's start with the modes available in the new XAVC SI 4K (All-I) H.265 codec:
4K, 50 / 25p, 10 bit 4: 2: 2, 500 Mbps,
4K S&Q, up to 100p (4x slow-mo), 10 bit 4: 2: 2, 250 Mbps.
These are the new recording modes for the well-known XAVC S 4K (Long GOP) H.264 codec:
4K, 100/50 / 25p, 10 bit 4: 2: 2, 280 Mbps,
4K, 100/50 / 25p, 8 bit 4: 2: 0, 200 Mbps,
4K S&Q, up to 100p (4x slow-mo), 10 bit 4: 2: 2, 140 Mbps,
4K S&Q, up to 100p (4x slow-mo), 8 bit 4: 2: 0, 100 Mbps.
For this we also have the option of choosing the XAVC HS 4K (Long GOP) H.265 codec:
4K, 100 / 50p, 10 bit 4: 2: 2, 280 Mbps,
4K, 100 / 50p, 10 bit 4: 2: 0, 200 Mbps,
4K S&Q, up to 100p (2x slow-mo), 10 bit 4: 2: 2, 200 Mbps,
4K S&Q, up to 100p (2x slow-mo), 10 bit 4: 2: 0, 150 Mbps.
It is worth noting that the Sony A7S III offers very rich slow-motion capabilities in 4K. We have the option of recording at 100 fps (120 fps after changing the region to NTSC) and manually stretching the image, or using the S&Q function, in which the camera immediately saves a slow image.
Sony A7S III in all 4K modes provides full pixel readout from the matrix without skipping lines and without binning. When it comes to Full HD, this resolution is of course also available, but is anyone going to use it in equipment of this class? The only reason may be slow-motion recording, because in Full HD we have up to 240 fps.
All the modes mentioned above can be stored internally on the memory card. The XAVC SI 4K codec requires the use of new CFexpress Type A cards, about which more.
Importantly, the Sony A7S III also has an HDMI output that allows you to output to a video recorder in 16-bit RAW format, up to 4K / 60p.
The prayers of the fans were heard. Sony A7S III has a side-tilt screen and a completely new menu.
Visually, the camera does not bring any revolution, but there are some new flavors here. The housing comes from the A7R IV models, which means a new, deeper and much more comfortable grip, more precise AF point selector, and locks on the upper knobs. In addition, the Sony A7S III introduces several proprietary solutions, including the transfer of the record button to the top panel. The body is made of metal and is of course sealed.
The most important, however, is the screen that cannot be missed. For the first time in the A7 series, we have a side-tilt screen that can be turned 180 degrees. So we can finally record ourselves without using external monitors.
On the screen we will find (finally!) A new menu. It is completely remodeled and you can finally feel some sense and logic in it. The previous one looked like a monster to which more and more functions were attached. Now we have a division into main categories, tabs and functions deeper, and everything is arranged in a logical way. Touch also works in the menu.
In addition to the screen, an extremely important element is the OLED digital viewfinder, which is extremely good in the Sony A7S III. Its resolution is – note – 9.44 million points, and its refresh rate is 120 Hz. For comparison, the Sony A7S II had 2.36 million points.
In practice, live, the image in the Sony A7S III viewfinder is virtually indistinguishable from the image seen with the naked eye. The impression is as if we saw the optical image from an SLR camera. The first time I saw something like this in a mirrorless camera. In addition, the viewfinder is simply huge and very bright.
The Sony A7S III uses two hybrid card slots. They work with SD and CFexpress.
Sony A7S III has a double slot for memory cards, and we find here completely unusual, hybrid slots that accept both classic SD cards (2x UHS-II) and CFexpress Type A cards.
The latter is currently completely exotic on the market, especially in the Type A variant, which is much smaller than the fledgling Type B. During several days of testing, I used Sony Tough cards with a capacity of 160 and 80 GB, reading 800 MB / s and writing 700 MB / s.
In terms of sockets, the Sony A7S III offers a fairly classic set: HDMI image output, 3.5 mm microphone input, 3.5 mm headphone output, as well as USB-C and micro USB connectors.
The battery is already a well-known Z-cell.
It seems that the Sony A7S III is not overheating at all. Canon now has something to think about.
During the short Sony A7S III tests, I checked if the overheating problem was still present. It was the bane of many Sony cameras, and recently Canon was burned on this topic in its EOS R5 and R6 mirrorless cameras.
Sony A7S III in standard mode turned off after 70 minutes of recording with a sequence of 4K / 50p material in 10 bits with 4: 2: 2 colors. I was recording on a summer day, in an interior that was about 23 degrees. Importantly, the camera was set in the "safe" mode, but there is also a power-off mode at higher temperatures, where you can record a lot longer. Before turning off, the camera, of course, culturally saved the recorded material on memory cards.
As can be seen, the problem of overheating has not been completely eliminated, but it is so limited that it should not cause problems in practice. Especially that such long recordings are rarely made in the highest possible image quality. By limiting the quality, we will also extend the working time.
Energy management should also be praised, because the Sony A7S III records almost 2 hours of 4K material in the highest quality on one battery. This is a very good result.
Another big surprise is the rolling shutter, or rather its lack. This effect is almost imperceptible regardless of the mode.
Everything looks great, especially since we are talking about a small body.
How is the quality of the recordings?
Below are some examples of the different recording modes. At the end of the article, I will put a package with original downloads.
The image in 4K is very sharp and full of details. The Sony A7S III has 10 built-in color profiles (peculiar looks ), but the most important are flat profiles, which on 10 bits give Sony a room for maneuver in the post-process, unprecedented before. Of course, we have Cine modes, we have S-Log 2 and S-Log 3, we also have HLG modes that really shine on 10 bits. Sony also boasts of an improved color ( color science ) behind the recordings.
At night, the Sony A7S III works exceptionally well. We are probably dealing with the new king of darkness which gives the best picture at high ISO. The standard sensitivity range used in practice, i.e. the range up to ISO 6400 or gusts up to ISO 12600, is simply not noisy, and it gives a very good tonal range. And we still have a cosmic reserve on the sensitivity scale, because this exceeds the value of 400,000.
And does the Sony A7S III take pictures?
It does, it's a camera after all. The twelve-megapixel matrix does not allow for great madness, but it pays tribute to extremely low noise. Sometimes you can even go wrong one zero in ISO sensitivity. The image from ISO 3200 looks great … and then it turns out that we are not looking at 3200, but at 32000. Of course, we have all the amenities of Sony cameras, including RAW recording, of course.
All in all, Sony has done its homework.
I could only spend two days with the Sony A7S III, but the camera showed me that Sony was back in the game for good. And although we will not find 8K recording here, or even any particularly groundbreaking modes, Sony gives one of the best specifications on the camera market as part of the 4K standard.
We've already seen all the pieces of this puzzle somewhere, but Sony put them all together. In addition, it did well, getting rid of the most pressing problems such as overheating or working time on a single battery.
The Sony A7S III is a camera that goes far beyond my film needs. I won't be surprised if the A7S III becomes the new default filming equipment for studios that create professional music videos, product videos, or coverage. Surely this camera will stop the ebb of video makers from the Sony camp. Panasonic, Canon, and also BlackMagic have nothing to fear. Sony A7S III is – just like that – a very solid recording device.
Sony A7S III is to be available for sale in August. The European price is 4,000. euro. In Poland, the estimated price is 19.5 thousand. PLN, but the final price will be decided by distributors. Remember also that this class of hardware requires a really powerful computer if you want to edit material in the highest quality, and powerful disks. One minute of XAVCS I, 4K / 50p material in 500 mbps, 4: 2: 2, 10 bit recording takes 3.72 GB. However, not every project will require the use of the highest quality available in a camera.
Sony A7S III in our hands – first impressions