In recent years, local and foreign Sci-Fi movies would feature transparent computer, tablet, mobile phone and other smart terminals. But how on Xiaomi phones? Ever since its release, the Xiaomi Mi Mix full screen concept phone has changed the status-quo of mobile phone homogenization. With Xiaomi being the leader in adopting cutting edge technologies, you can work on this mobile "phone transparency" in the Xiaomi phones as well. Get the cheapest Xiaomi products here!
There are simple ways to achieve transparent mobile feature, like using photos of background to make it appear transparent. Are there other ways to achieve real-time transparency on the phone?
Yes, you do with Transparent Scree Pro App on Xiaomi Mi Mix. Transparent screen Pro makes use of live wallpaper to achieve this translucent effect, as if you are seeing through the wiring and components of the mobile phone, just like a piece of glass. The way it is done is to use the rear camera of the mobile phone, and project what's behind the mobile that is blocked from the view, as live background on the display, thus achieving a translucent effect, to this if you add Xiaomi Mi Mix's "stealth mode" to the background, you will see how really cool it is. In order to make your phone transparent, first step, you will have to download "Transparent Screen Pro" App. The link to the download is given at the end of this article. Here are the details of our testing with Transparent Screen Pro. Test equipment: Xiaomi Mi Mix System: MIUI 8 Require Root access?: No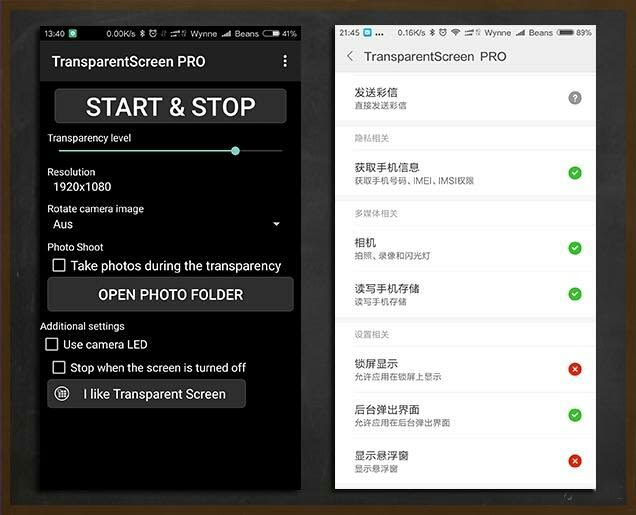 First install Transparent Screen Pro App on your Xiaomi Phone.
Give permission for the App to modify some display setting like Unlock, Sleep mode and Screensaver.
Open the App, and configure it with appropriate setting, which includes
Transparency level
Resolution
Rotate Camera Image
Take Photos during the transparency
Additional Settings like "Use Camera LED" and "Stop when the screen is turned off"
Click on "START and STOP" to apply the settings, and get started with transparent screen.
You can customize the transparency of the screen using the "Transparency Level" slider, anywhere between 0% and 70%.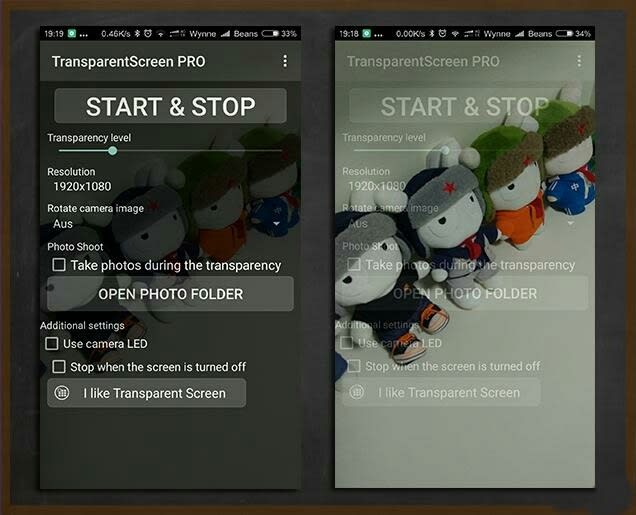 While keeping the software running, go to other applications or Home screen, you will see the phone as you are holding a translucent glass.
At any time in use, you can click on the notification bar, and switch back to original background. Switching between original background and transparent is quick, easy and steady.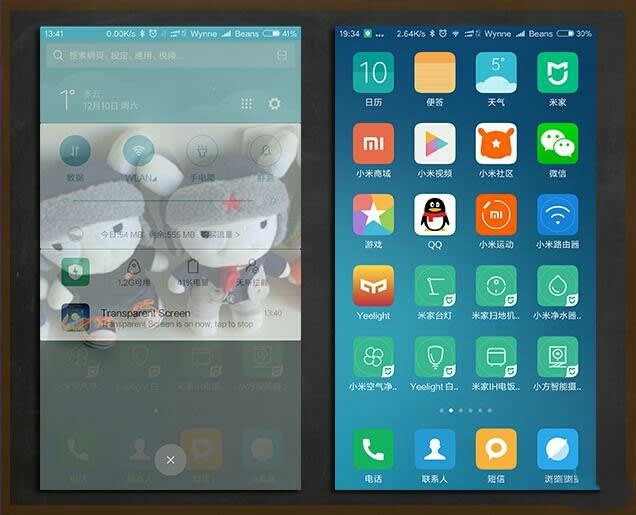 For Smartphone addicts, this "screen transparency" is an awesome experience, and helps you to play cool. To some extent, it also improves the security of the mobile phone, as it may go unnoticed by others. Note: The transparency feature requires the camera to be switched on when in use, this may be power consuming, so use it moderately. I post APP download link in my facebook page(first post). Here is the cheapest Xiaomi products you can find online!