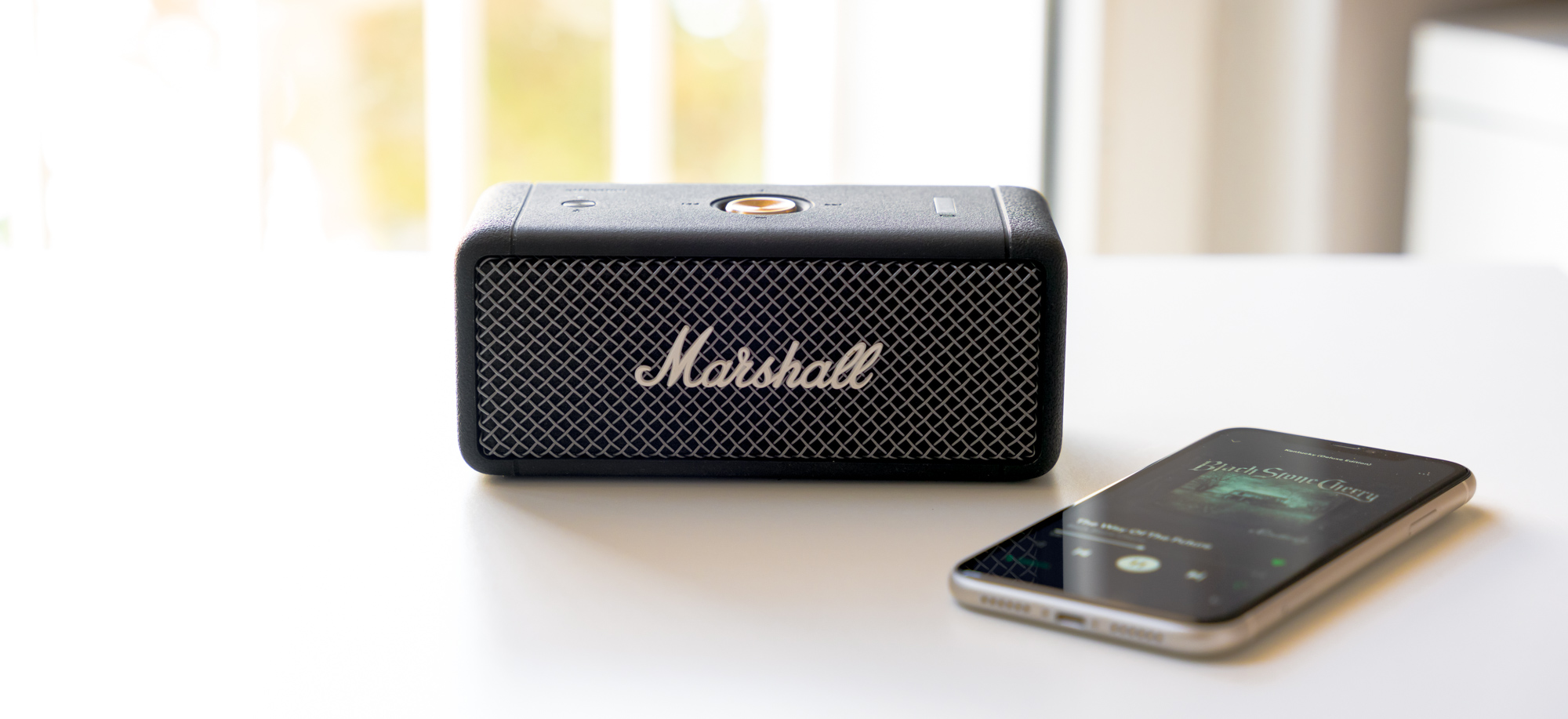 This Bluetooth speaker is a real freak. He can't do much, he appeals to a very narrow group of recipients, and yet… I can't dislike him.
Marshall Emberton has a truly rock magnetism. As befits a product from a legendary manufacturer of guitar amplifiers, at first glance you can see the DNA of great scenes, behind-the-scenes parties and shouts of groupies.
And seriously, Marshall Emberton, despite its small size, looks really racial. At first glance, it cannot be confused with a product of any other brand. Iconic logo, multi-function switch reminiscent of guitar amps and plastic-clad construction – yes, it's Marshall for sure.
Luckily, Emberton not only looks like a premium product, but is also made like a premium product. The casing is solid, although relatively light (700 g) and small (68 x 160 x 76 mm). All its elements are pleasant to the touch and fit perfectly, and the entire structure meets the IPX7 waterproof standard, so you can put this speaker by the pool or backyard without fear of rain. However, it lacks dust resistance, so I would rather not take it to the beach.
Charge the speaker via the USB-C connector. When fully charged, it should last for about 20 hours of work, which I was able to confirm in the test. The battery level is indicated by a clearly visible bar on the housing.
Marshall Emberton sounds like a rock speaker.
The rock DNA of Marshall Emberton is not only visible, but also heard. When you turn on the loudspeaker, you are greeted by a guitar riff, and after pairing the device with the phone, you can immediately hear what kind of music Emberton feels best in.
Classic rock, country, relatively funk and contemporary progressive rock – these are the territories in which the Marshall speaker moves with the greatest freedom. For such a tiny design, the Emberton is absolutely surprising with its clarity and selectivity of sound, you can hear every note of even the most complex guitar passages. The bass is also surprising, which is disproportionately strong to the dimensions of the device – the Emberton can really shake the surroundings, although it weighs only 0.7 kg.
The sound comes from two 2 "drivers with a power of 10 W, each driving an individual amplifier. Marshall has tuned and positioned the speakers to simulate a "360-degree sound" and to some extent has even succeeded. Emberton does not make a sound that fits into such a small package, it seems to be several times larger. There is nothing to charm about it – the real sound of 360 is not, and it certainly does not come close to bending the laws of physics, which we will feel, for example, in BeoPlay A1.
The narrow stage and the slightly compressed treble also hurt a bit. The female vocals are a bit muffled, but on the other hand again – this is an advantage in rock music, because thanks to a gentle squeezing of the treble, cymbals sound very pleasant in rock.
Personally, I am very happy that Marshall Emberton plays very clearly not only at high, but also at low volume levels. In fact, at low volume it sounds even better, because at the highest volume of sound the limitations of physics come to the fore and the tiny speaker loses much of its detail (although fortunately even "turned to the maximum" does not distort).
However, I must warn you that there is nothing to count on audiophile rapture here. Marshall Emberton has quite a warm, analog sound, but it was created for casual listening, not to enjoy the overtones of the 300-year-old Stradivarius cello in Suite No. 1 in G major.
This can also be heard in the loudspeaker's reaction to various audio formats, which is… none. Almost inaudible. Spotify Premium sounds the same as Tidal Masters, which on the one hand is a disadvantage, and on the other … in this class of equipment it is even an advantage, because the loudspeaker will not attack the listener with unpleasant artifacts when the audio is connected to it of too low quality.
We transmit sound via Bluetooth 5.0, but there is clearly no support for higher quality codecs. Theoretically it supports aptX, but Marshall does not confirm this in the official specification and unfortunately it is not audible during listening. And this, unfortunately, also translates into an audible delay in sound transmission when watching a video. So while Marshall Emberton is perfect for listening to, for example, Blackstone Cherry on Spotify, not really to watch the concert recordings.
Marshall Emberton also has a few strange shortcomings.
The biggest of these is the lack of a microphone. We will not talk through this speaker in the hands-free mode. We will not pair it with the phone quickly, because it lacks NFC. We will also not connect it with several devices at once, because … because not. While I really like the riff accompanying turning the loudspeaker on and off, I would really like to turn off the sound accompanying the change of tracks, because it is simply unpleasant – unfortunately this also cannot be done.
Deficiencies can be forgiven.
Marshall Emberton costs only PLN 649 and although he cannot do much, he does two things really well: he plays and looks.
We are probably paying the most for the latter, because it is the design that distinguishes Marshall Emberton from other, often cheaper constructions.
In combination with the excellent sound in guitar music, we get a product for a very, very narrow audience niche. And that's exactly how it was supposed to be. Marshall Emberton, like any other Bluetooth speaker from the company, is not intended to be a mass product, but an accessory that will appeal to a specific group of customers. Those who put the loudspeaker on a rack with biographies of former rockers and enjoy the look of it, will listen to AC / DC. If this description suits you – buy blind, you will be delighted.
Rock DNA not only can be seen, but also heard. Marshall Emberton – Bluetooth Speaker Review
https://ift.tt/3eUmb6w