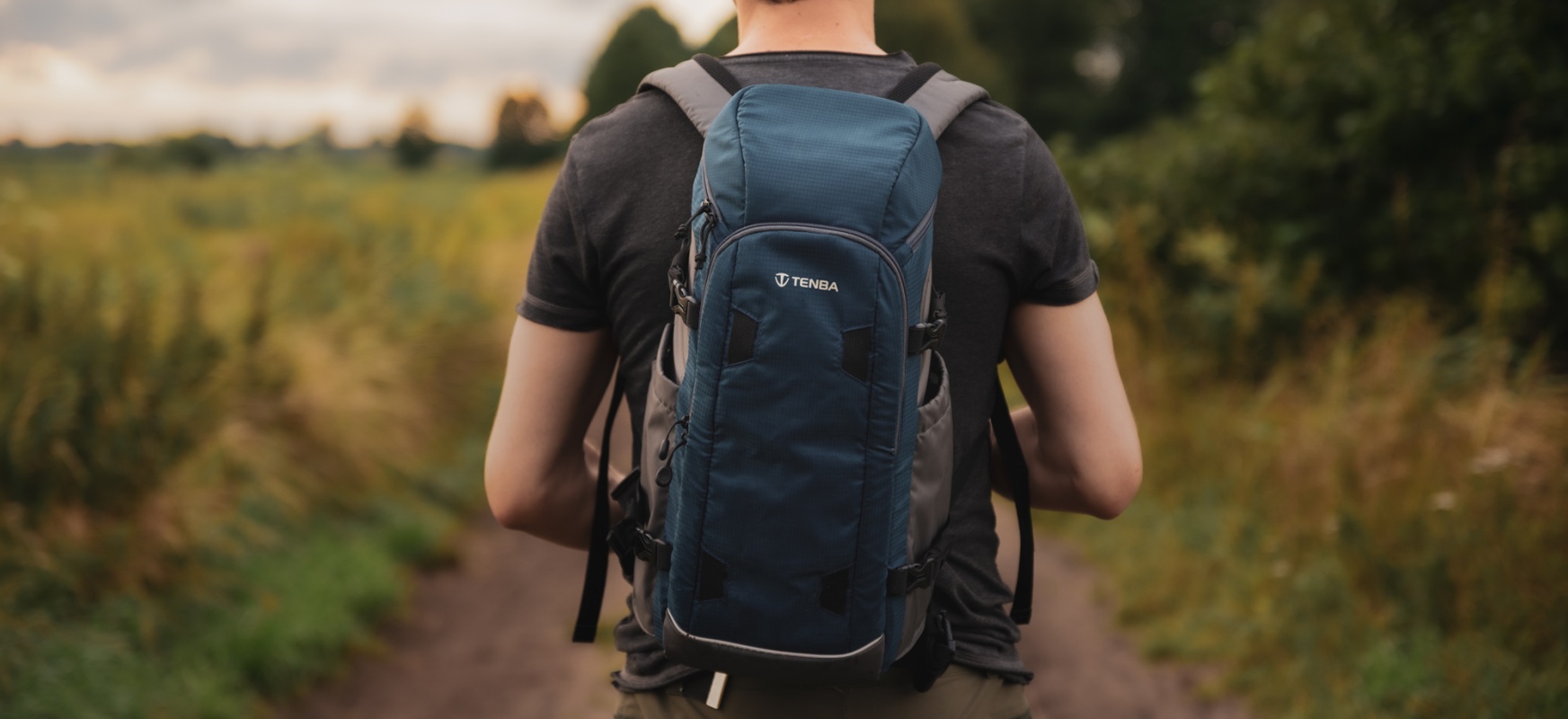 We don't always have to take all the studio equipment with us when we go out with a camera. Sometimes a light set and sandwiches for the road are enough – the Tenba Solstice 12 L backpack was created for such situations.
Under normal circumstances, I probably wouldn't even look at Tenby's proposal. Usually, when I need a backpack, it has to hold not only a camera, but the entire mobile office – a laptop, chargers and a number of other gadgets necessary for working on the go.
In 2020, the event industry has died down, and conferences are held exclusively online, so there is nowhere to go with full equipment. Beautiful weather, however, encourages exploration of nature and field trips. Here the Tenba Solstice 12 L performs surprisingly well.
Tenba Solstice 12 L is a backpack for day trips in the field.
For those who need more space, there is a 24-liter version. The backpack, which I received for testing, courtesy of the ABFoto.pl store , has a capacity of 12 liters, although it still has a surprisingly large amount of equipment.
The tests of the Tenby backpack were perfect for the test of the new Sigma 100-400 mm lens designed for Sony mirrorless cameras. I rearranged the Velcro-fastened inserts so that one part of the backpack would create a single, long compartment in which I could fit a Sony A7rIII camera with a 100-400 mm lens fastened.
In addition to this long chamber, I still have enough space to comfortably fit the 24-70 mm f / 2.8 lens, a memory card holder and a few small things.
A small note here: the backpack is only 15.2 cm deep inside, so some of the larger "primes" and zooms will not fit into it in a vertical position. I had to put my Sigma 24-70 mm down to prevent it from sticking in my back.
Access to the equipment is via a convenient, detachable pocket on the back, or a small opening at the top of the backpack. When I had a 100-400 mm lens fastened, I pulled the camera out through the top pocket. However, when the inserts returned to their place, the space under the upper pocket served as an additional compartment for small items, which could successfully fit, for example, provisions or a folded rain jacket. There is also a key hook.
My personal preference is backpacks with side opening, from which I can take my gear without taking the backpack off, just sliding it over my shoulder. There is no such possibility here – if you want to get to the equipment, you have to completely remove the backpack from your shoulders or even put it on the ground, if you do not have a hip belt on.
In addition to the main compartment, we only have one additional space for small items. In the detachable front pocket we find compartments for small electronics – I was able to fit my smartphone and Kindle there, apparently there is also an iPad mini there, but I was not able to verify this.
On the inside of this pocket you will also find a zipped pocket for documents and places for memory cards. Unfortunately, my Surface Pro did not fit into any partition – the Tenba Solstice 12 L backpack is too small to take even the smallest computer with you.
However, it has enough space to take your photo equipment and essentials for a full-day photo-trekking. In addition, the side pockets are designed to fit a water bottle or conveniently attach a tripod, which should be especially liked by landscape photographers.
They will also like the included rain cover, which will protect the contents of the backpack in the worst rainstorms. In normal rain, waterproof material and leak-proof zips should be sufficient to keep liquids away from the equipment.
Tenba Solstice 12 L will surprise you with its comfort.
Adequate capacity would be nothing if the backpack couldn't be worn comfortably all day long. This is not the case here. Tenba Solstice 12 L is an above-average comfortable backpack.
The straps are wide enough and well padded so as not to cut into the shoulders, even when the backpack is loaded with zippers. The backpack itself weighs only 900 g, so it does not add too much to the weight of the equipment that can be packed into it.
I was also very pleased with the softly padded backs, which are also very well ventilated. Usually, after a few hours in the field with a photo backpack, I have a huge stain of sweat on my back, and here the ventilation was good enough not to cause discomfort even after long hours of walking in the field at a temperature of about 25 degrees Celsius.
The backpack fits tightly to the back and does not stick out too much, so there is no need to worry that when crossing the forest or narrow mountain paths, it will catch a tree or a rock.
From the point of view of the convenience of carrying and use, I have only two comments to this backpack.
The first one is about the handle that you pick up the backpack from the ground. This one is definitely too narrow, so it sticks into the hand. Considering the fact that we have to take the backpack off to take the equipment out of it, this is quite a significant disadvantage that has often been a pain for me.
The balance of the backpack on the ground gave me similar signs. Or rather – its lack.
Tenba Solstice 12 L is a tall and narrow structure that does not want to stand upright for nothing. This is problematic because only the base of the backpack is additionally protected against getting wet. If we want to put the backpack in wet grass, for example, we risk getting the tailgate wet and, consequently, wet back and wet equipment.
Is it worth buying a Tenba Solstice 12 L backpack?
As long as you have 400 PLN free – definitely. For a backpack with such a small capacity, the Soloist costs a lot, but Tenba has already got us used to it. As well as the fact that their products are excellently made and long-lasting. You can be sure that when you buy such a backpack, you will use it for much longer than just one season.
You have to remember that this is a backpack for a very narrow range of applications. Designed strictly for one-day photographic trips into the field. On average, it is suitable for everyday use and does not fit enough to meet the needs of reporters or event photographers. This product is dedicated primarily to people who photograph nature and landscapes. And in these tasks it works – despite a few minor shortcomings – really great.
Perfect for holiday trips with a camera. Tenba Solstice 12 L – review
https://ift.tt/3eUmb6w