Mi AI speaker is a smart speaker released by Xiaomi on July 26, 2017. It is jointly developed by Mi TV team, Mi Brain R&D team and Xiaomi Explore Lab. Mi use a "Little AI classmates" as Mi AI speaker wake words. It is pleasure to have a chance to test use immediately after it released, let me show you about the details specification of Mi AI Speaker. Get it the cheapest here!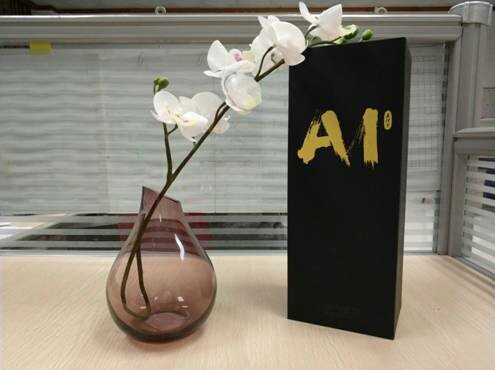 Smart speakers are in the rapid development, just like the rapidly upgrade on artificial intelligence and speech recognition technology, that enables the interaction among human and machine progress to a new level, we enter the era of smart technology now. Mi AI speaker is one of the smart speakers that catch a lot of people eyes especially Mi fans since day one release. The Mi AI speaker features very distinctive function and excellent sound quality! Mi AI speaker is first products released by Xiaomi Explore Lab which established by Xiaomi Ceo Lei Jun in 2015. Lei Jun always said that Xiaomi Explore Lab owns a lot of coolest and interesting black technology!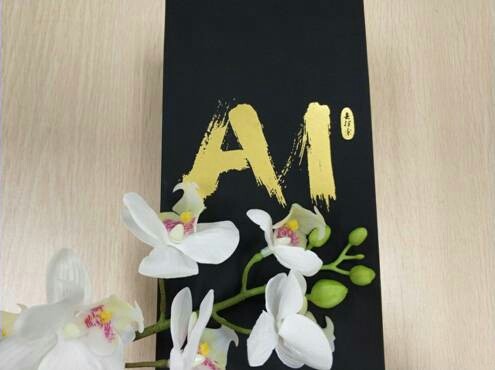 I felt the honor to receive the debut Mi AI Speaker commemorative edition, the box is designed in black gold color and it looks very high class. The letter of AI convex in gold look fashion and trendy. When this product starting to openly sell in the market, the Mi AI speaker will pack with a white box, for me the black gold still my favorite and it is memorable too.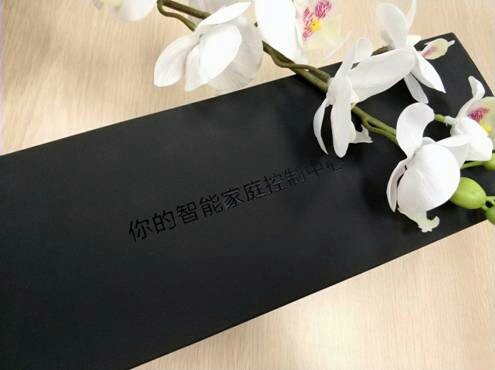 At the side of the Mi AI Speaker box, it printed "Your smart home control center". From here you can know that with Mi AI Speaker you can customize your smart life scenes, like say a good morning, Xiaomi Ai Speaker will help you open the curtains, turn on the lights and adjust the temperature of air conditioning, and also help you turn on the water heater, TV and so on. One devices that can control all smart home products, it is really your smart home control center!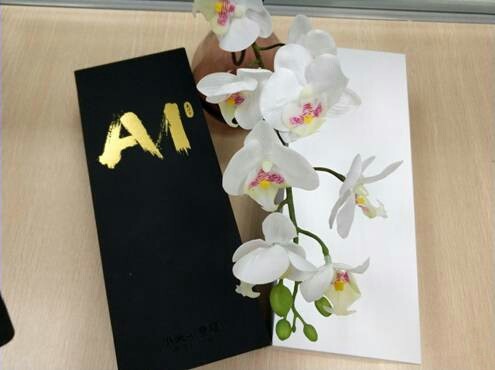 Pull out the black box, you can see there is a white overlay + box that give more protection to Mi AI Speaker, this pure white internal box is similar colour with Mi AI speakers and I like it very much.
When Opened the box, there is an adoption agreement for Xiaomi AI speaker, and I will be a guardian of this Mi AI Speaker. The way Mi company treat Mi AI Speaker like a human being is really awesome. It make me feel that Mi Ai Speaker is a people that belong to me.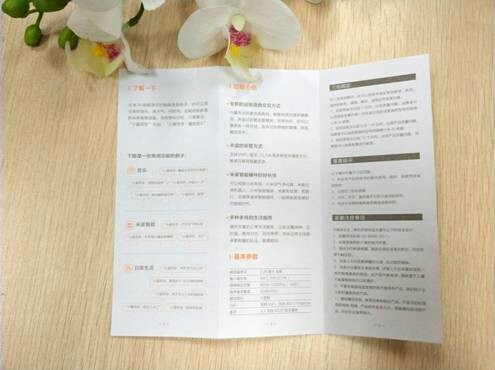 Then there is the product manual for the Mi AI Speaker, you can find all the details regarding the Mi AI Speaker which include how to use, details features, smart play, basic parameters and precautions matters.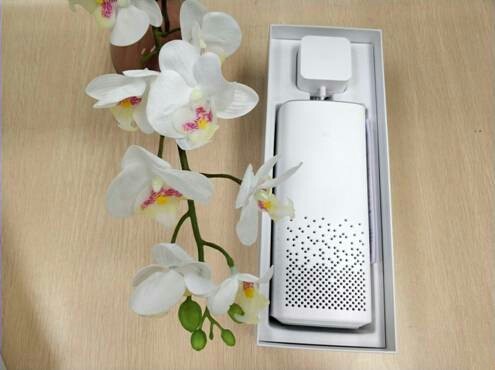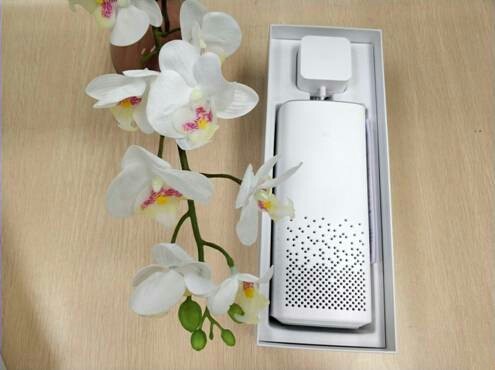 Now we can see how is Mi AI Speaker look like, basically it is pure white tower shape design, some netizen comments that it looks like a small size Mi Air Purifier.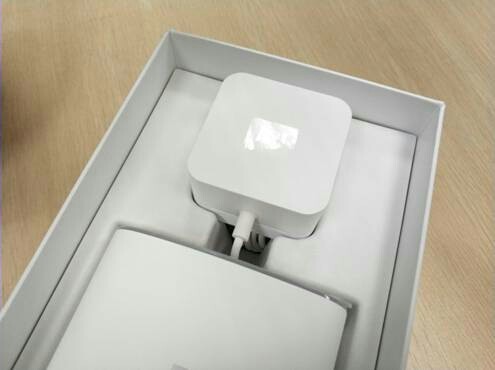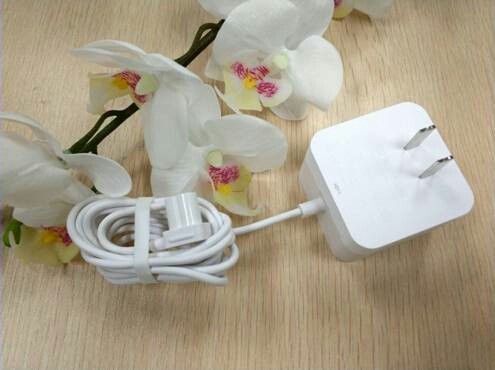 You can find the Mi AI Speaker charger upper part in the box, the charger is cube shape, and the back has listed out some of the parameters, such as power specifications: DC 12V 1.75A, rated output power:> 5W. The wire of the charger also white color so will easily get dusty after some time, for people like me who have some OCD symptom, it makes me feel bad.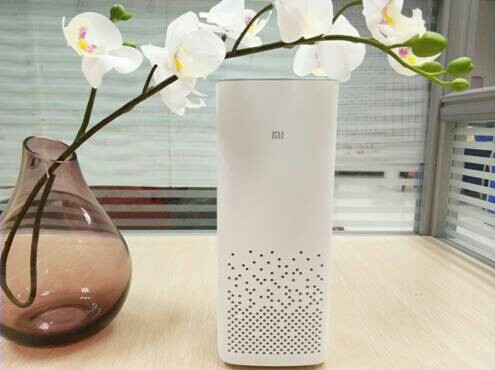 For the first artificial intelligence smart speaker presented by Xiaomi, although at first glance it looks like Mi air purifier after close observation, actually this is excellent artificial intelligence smart speaker power by outstanding design, smooth appearance, and voice interaction technology. I think it is commendable that Xiaomi brought anthropomorphic character set to an artificial intelligence smart speaker, and at the same time, I think it is very funny.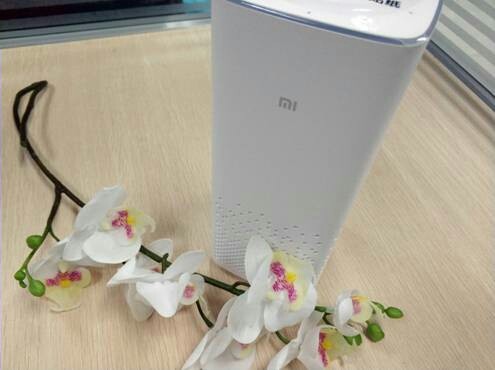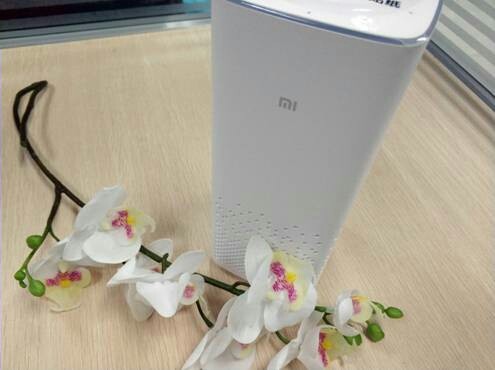 Mi AI Speaker is in a rounded cube shape, the irregular holes below the body make it very recognizable, while the white color makes it not only more easily integrated into the home decoration, but also added a beautiful landscape to the home.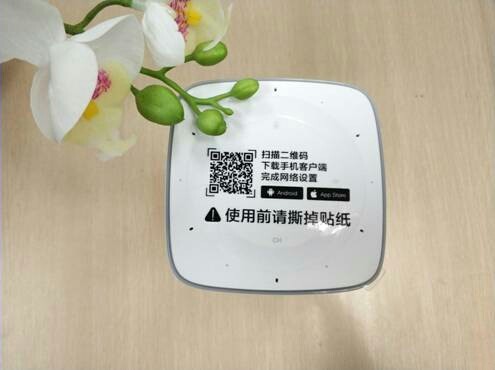 The upper part of the Mi AI Speaker, there is a warm reminder to prompt you to scan the QR code to download the App to complete the initial settings.You can change the setting on Xiaomi AI Speaker App.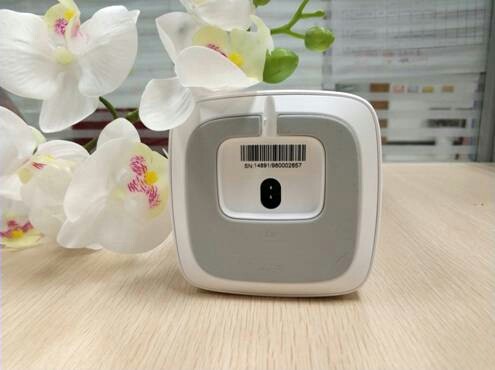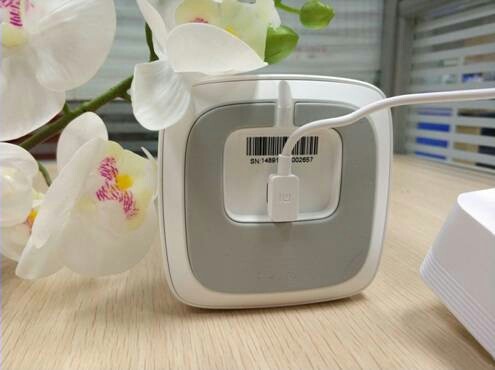 Small groove design of the power jack makes the power cord can be hidden behind the speaker, beautiful and concise. In actual use when I need to unplug the power jack it is quite difficult, I try few times still cannot make it. It is recommended to optimize the power supply interface later, to make it easier when need to unplug the power.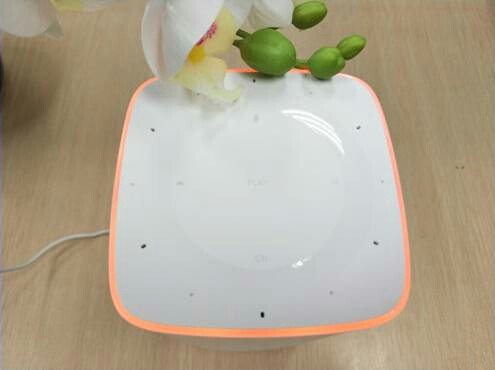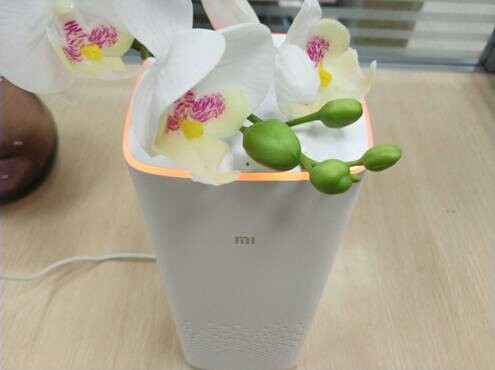 The control panel is located top of the body, with an array of six microphones, and all the control button you need including play, previous track, next track, mute and mode switching button. There is a smooth touch ring for adjusting volume by gesture recognition, there is a round of breathing light along the edge of the speaker, that makes the speaker look advanced. The color will change base on different operation mode. Overall, the design concept of Mi AI Speaker looks like a bit similar to previous product and the variety of its function and customize setting will surely make the user love it very much.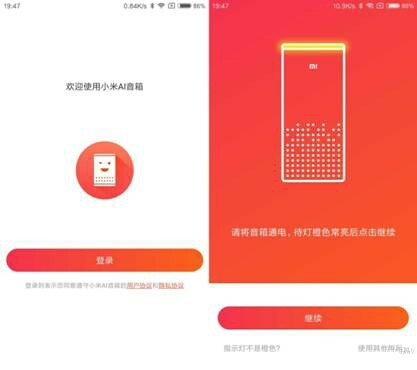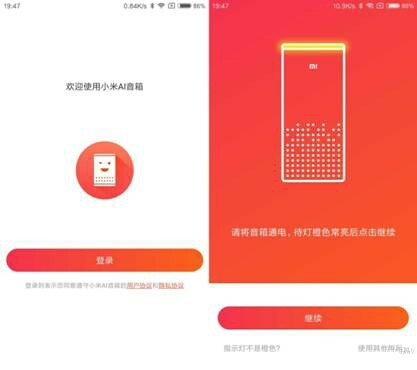 By scanning the QR code to download beta version of Mi AI App, before starting to use you need to log in to your account. You need to use Mi account to log in, and this account also can use on all Mi products. When you logged in, the breathing light of Mi AI Speaker will turn orange.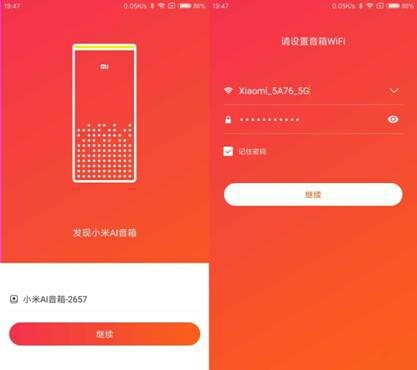 Select next, the APP will automatically search Mi AI Speaker. When it found Mi AI Speaker and connected. You will need to set your speaker WiFi setting to enable the speaker connect to internet, so AI Speaker can fully perform.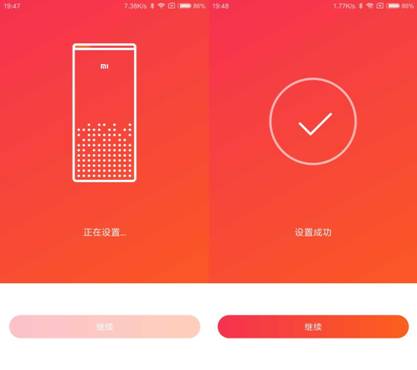 When successfully connected, Xiaomi AI App will initially set up on the Mi AI Speaker, after the operation completed, you can use the speaker. Now, you can expect amazing things about to happen!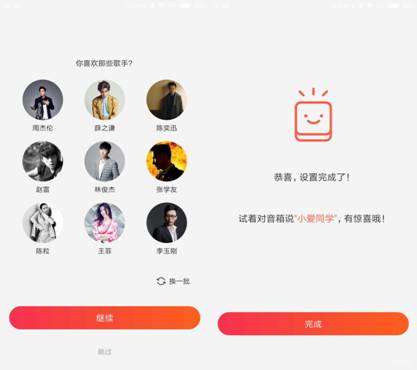 Mi AI App will prompt you name of singers, music genre, travel and interest setting. After you selected, you will enter the main interface of the App.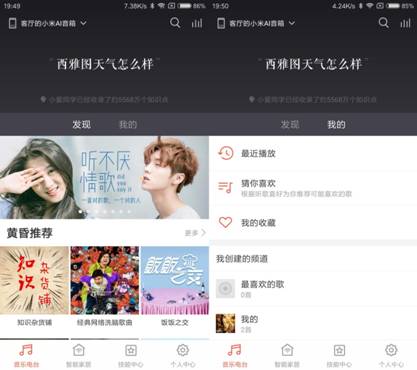 Mi AI App is divided into "music stations, smart home hub, skills center and personal center." It is very obvious, this 4 categories is what Mi AI Speaker is good in.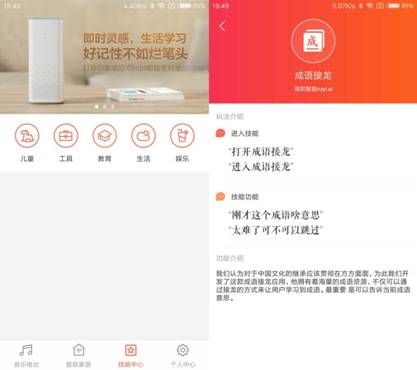 In "Skills Center," Xiaomi lists some phrases that teach you how to check the weather, ask for travel information, idioms Solitaire or even show you stock market trend today. For now, it covering all aspects of children, tools, education, life, entertainment, I am sure it will provide more and more skills and function in future.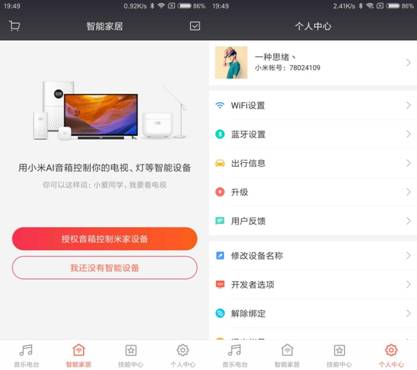 "Smart home hub" section is the main function that provides by Mi AI speakers. Xiaomi AI speaker can be your smart assistant, you can use your voice to control a bunch of Mi home smart home product with the help of Mi AI Speaker. Currently, there are 60 million smart homes products from Mi eco-chain enterprise that activated and in use. Can you imagine Mi AI Speaker can connect and interacted with over 10 millions family, this is unimaginable for Mi competitor. "Personal Center" is another word for setting. Mi AI Speaker can use as a normal Bluetooth speaker for playing song that store in your mobile phone, you only need to connected the speaker with your mobile phone Bluetooth.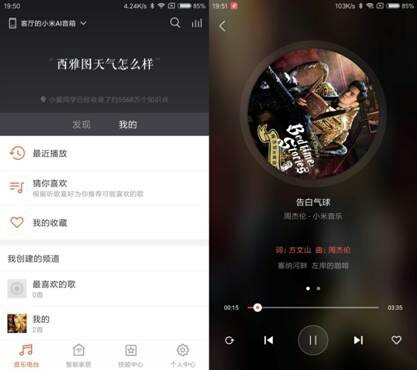 Mi AI Speaker is better than most of its competitor in terms of sound quality. It uses a sound cone reflection and waveguide technology. They are two built-in reverses mounted passive diaphragm, a diaphragm vibration pushes the air to drive another diaphragm vibration, the two superposition can be obtained beyond the volume limit of low-frequency loudness. Forming a 360-degree sound field of the ring to achieve 360 degrees sound broadcast. Thanks for the good job done by Mi Explore Lab, the sound quality of the Xiaomi AI Speaker is great.
Summary:
The emergence of Mi AI Speaker is a game-changing product in smart speaker market, with it incredible prize, compact looks and power by dual-band WiFi, high volume, good sound quality, and able to control a host of smart home products. Not to mention it voice interaction technology that frees our hand, for now you can use your voice to control your smart home devices, this is pretty amazing with only one speaker can become a control center for a lot of smart home products. The Mi AI Speaker will not exist with effort from the Mi Explore Lab team, and I want to says a big thank to them. A successful speaker will make the user feel inseparable from her, and I think Mi AI speaker is basically done that, well done for Mi company.
The actual experience in test use the smart speaker I found out some problem that needs to be optimized like language recognition. I would like to recommend Mi company to add the speaker control button to Mi AI App too, to make the operation more convenient.
There are still a bunch of function needs further Optimization and development and Xiaomi needs to do more on privacy protection, which a lot of user concern with.
Finally hope that Mi AI Speaker will know you better! Here is the best deal you can find online!