Xiaomi is not just a smartphone brand anymore, they have a product portfolio touching a lot of industries like kitchen appliances, audio accessories, air and water purifiers and lot more. However, Xiaomi is not doing all this alone but they have their ecosystem which comprises of a lot of subsidiary companies. One of the them is Huami, a Xiaomi company working in the fitness sector. Huami's most successful products are the Amafitsmartwatches. The first version released under this brand name was the Amazift PACE. A round shape smartwatch with all the fitness tracker features and lot more. This Xiaomi product costs around $200, a lot cheaper than any other smartwatch out there. But is it really useful and worth your attention. We gonna find out in our review of the Amazfit Pace by Xiaomi. Get it the cheapest here!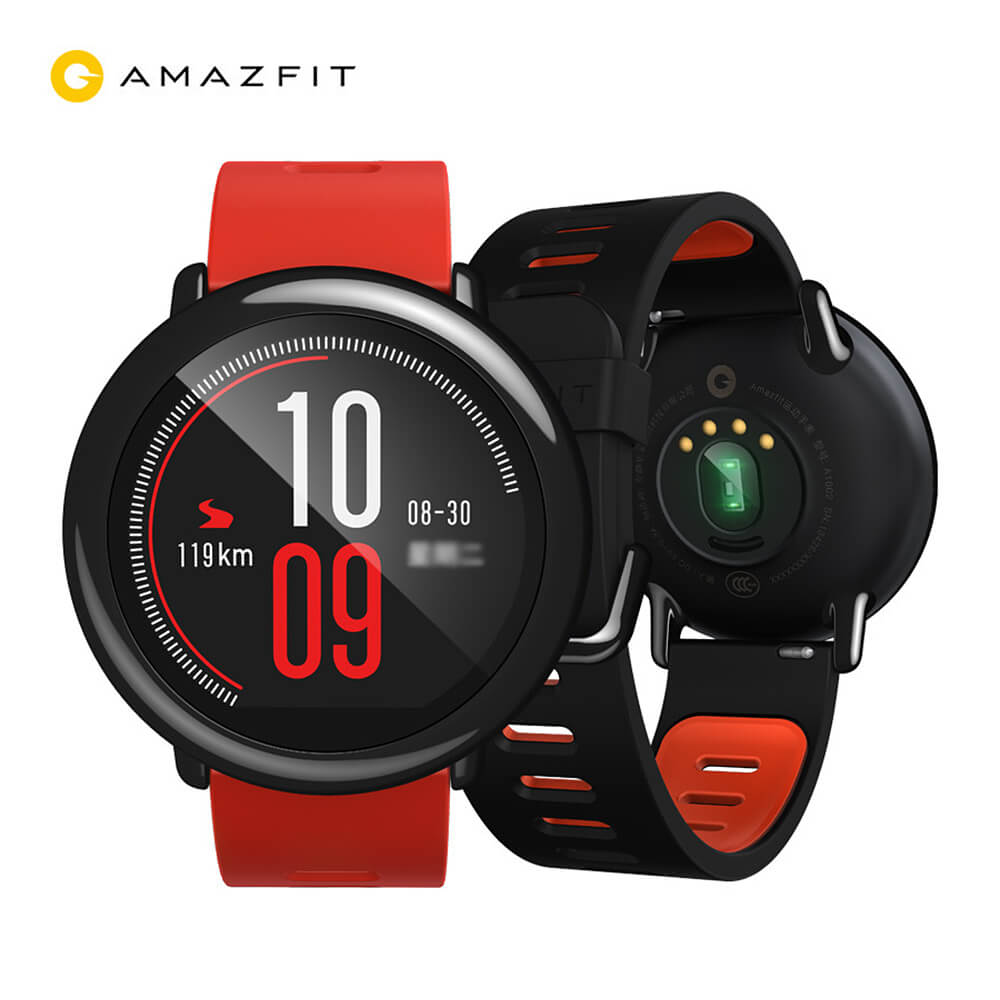 Design
The Amazfit Pace comes in a round shape with an LCD touchscreen display upfront which is surrounded by a dark ceramic bezel. There is a physical button on the top-right edge, which is the home button and also wakes the device. This complete package is beautiful to look at, the watch feels really premium and the ceramic bezel adds durability to the smartwatch.
The display on this watch is a 1.34-inch transflective color LCD display, with a resolution of 320 x 300. The display is rich and impressive to look at, it performs well indoors as well outdoors. Since this is a transflective display, the more light hits the screen, the better it is to read outdoors. The watch comes with an orange rubber strap which is made of high-quality material making it comfortable to wear it all day long. The watch comes with an IP67 rating which makes it water and dust resistant.
The watch is equipped with a touchscreen but that is not usable until it is activated using the physical button on the watch. This is a letdown and also an annoying thing to poke a button every time you want to use this watch. The screen is not usable even when a notification is received and the screen wakes up itself. You can raise your wrist and the screen will come to life but even then the touchscreen is not activated, which disappoints us. A lot of other smartwatches do have this functionality of using the watch right away without pushing a button and we wish we had the same with this XiaomiAmazfit Pace too.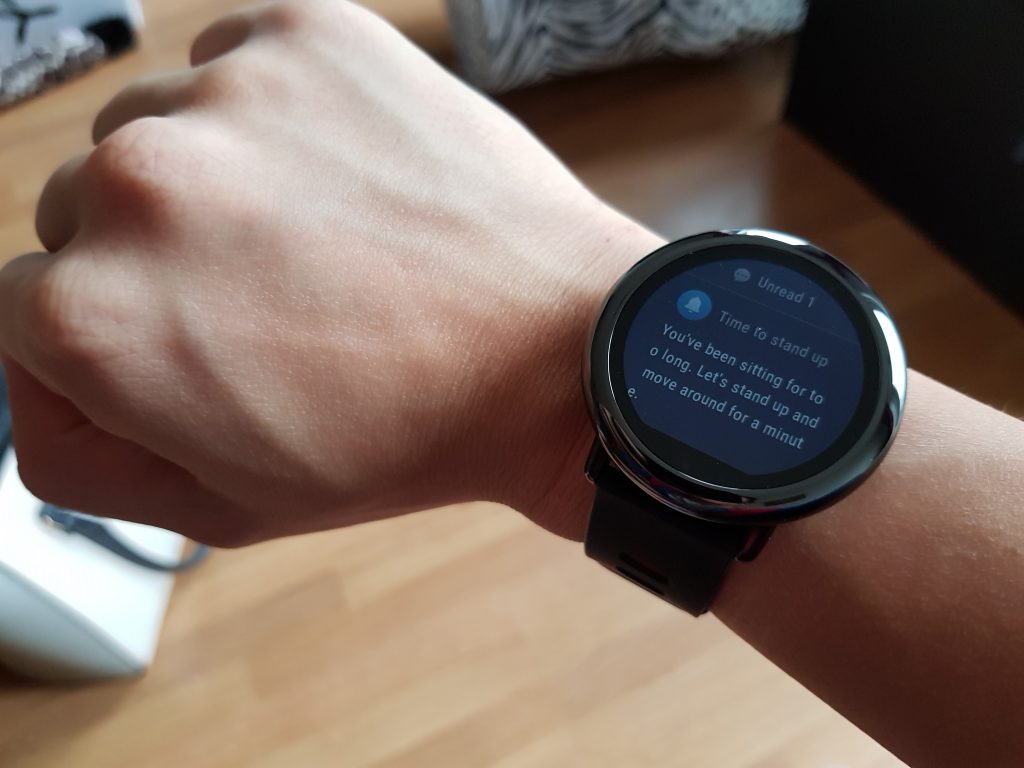 Performance
This GPS enabled watch comes with a lot of loaded features and it can track your steps, distance traveled, calories burnt, heart rate and sleep. Talking about tracking, the watch is pretty accurate when compared to other fitness gears like Fitbit. While in active mode, the watch displays quite a bit of information on the screen, you can check your workout time, calories burned, speed, cadence, distance, pace per mile, heart rate, as well as your GPS route. The distance and route tracking is spot on this smartwatch thanks to built-in GPS.
The optical heart rate sensor on the Amazfit Pace is also very accurate and useful in maintaining your overall fitness data. The way the data is presented to the user is worth mentioning here, it is detailed and crisp and extremely useful for an athlete or someone who is a fitness enthusiast. The watch automatically records your sleep too and you don't have to tell it that you going to sleep. You can view the stats about your sleep on the watch itself showing deep sleep and light sleep in detail. Talking about sleep, the watch also has a silent alarm feature, just like any other fitness tracked but what sets this watch apart is the vibration motor on this one is really good and works flawlessly.
The smartwatch shows your notification flawlessly on the screen and that too from any app that is installed on your smartwatch. The Amazfit Pace comes with a 4GB internal storage out of which 2GB is what is available to the user. The onboard storage helps in adding some music to the watch which can be further connected to your Bluetooth earphones. So next time you go for a run, you can leave your smartphone at home and enjoy your music hassle-free. Also connecting your Bluetooth headphones to this watch is a breeze. The watch can also remind you to move if you have been sitting for a long time, using its move reminder feature.
Xiaomi claims a five-day battery life in heavy usage and 11 days battery life in basic usage, and its quite accurately said. You can extend the battery life by minimizing the use of heart rate sensor and GPS. Charging this device is pretty easy with the charging cradle available with the smartwatch.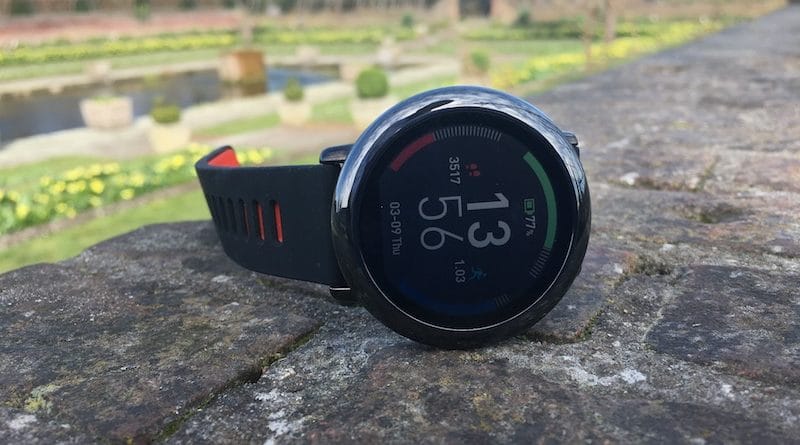 Conclusion
The Amazfit Pace is a feature loaded smartwatch and worth the price you for it. The device comes with a with a built-in GPS, heart rate monitor, support for smartphone notifications and a beautiful touchscreen display, which is a lot given the price.
But an in-depth analysis of the watch brings out some negatives which cannot be ignored. The software is still buggy and needs major improvements. The competition is tough in the smartwatch market and the Amazfit fades away a bit compared to the Moto or Garminsmartwatches. However, the built quality and the battery performance of this device is amazing and if you are ready to turn away from the cons, we totally recommend you this smart watch from Xiaomi. Here is the best deal you can find online!