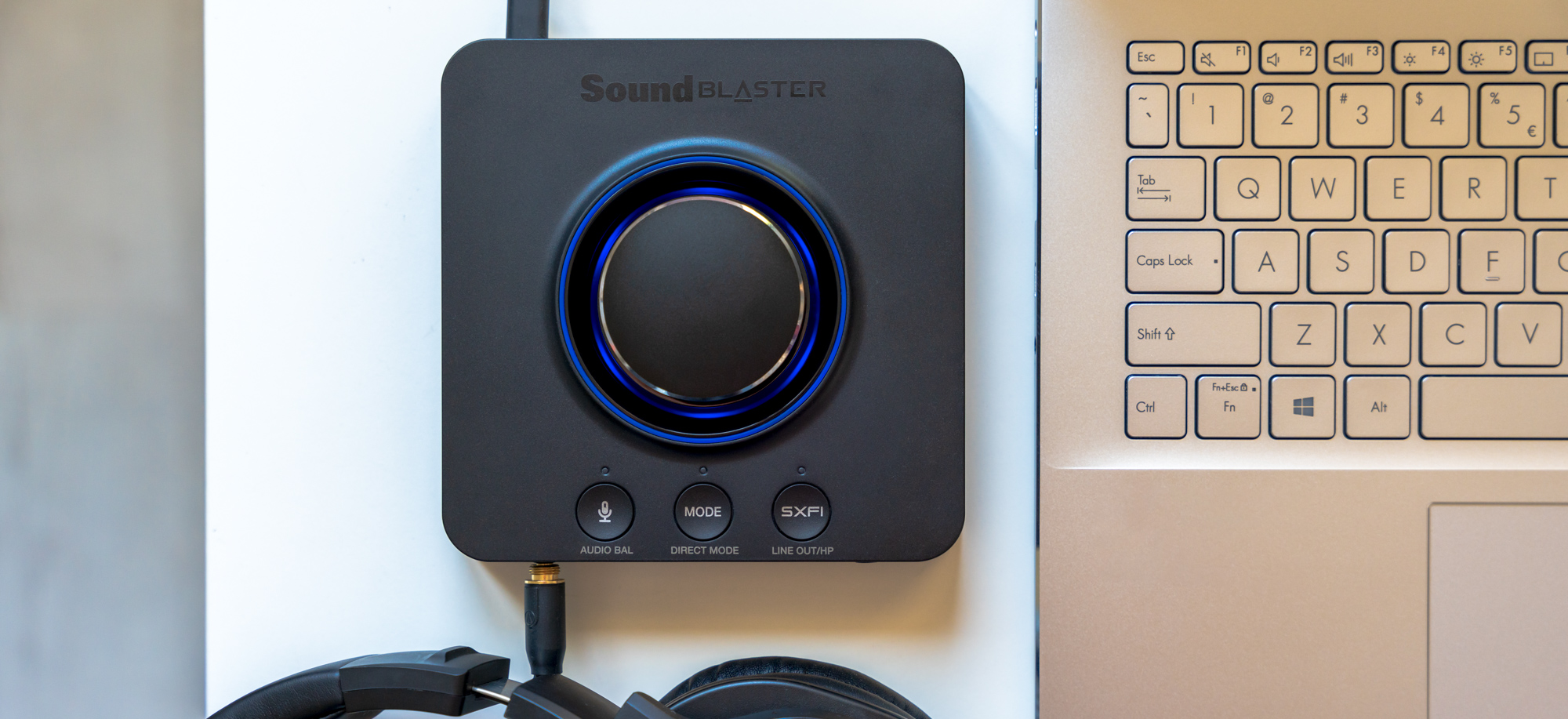 There are devices that you don't know you need until you put them on your desk. This is exactly what happened with the Creative Sound Blaster X3 sound card.
Usually, I am of the opinion that external sound cards have somewhat lost their raison d'être in recent years. Built-in audio circuits in computers and consoles provide sound quality that will satisfy the vast majority of users. Headphones have their own digital surround sound processing technologies and they no longer need a dedicated accessory, not to mention the fact that more and more people (especially gamers) are abandoning wired solutions in favor of wireless headphones. And where in this landscape is the place for a dedicated sound card?
I approached the Creative Sound Blaster X3 sound card with more or less this attitude. I put a small, plastic adapter with a huge knob on the speaker, connected the USB cable to the laptop docking station, connected the speakers and headphones to the appropriate connectors and … one day was enough for me to clear all the above doubts.
What can Creative Sound Blaster X3 do ?

First of all, in its most basic form, it is an external USB DAC with its own amplifier. Visually, it is also a very simple structure, although it is impossible to deny its discreet elegance.

The housing is unobtrusive and does not shine with a million colors. We find here only a large, convenient ring for adjusting the volume and switching the sound control between SPDIF and line sources (pressing it stops playback) and three buttons.

The first is to adjust the microphone.

The second is for switching one of the three operating modes:

Musical (raises low tones and gives the sound a more musical character)
Cinematic (raises dialogues to make them clearer)
Footsteps enhancer (raises footsteps sounds, which can be invaluable in esports shootouts)

The third one is used to run the SXFI functions, which will be discussed in a moment. On the front we find a microphone and headphones input, and on the back there are optical outputs and sockets for connecting speakers in a system up to 7.1.

If we do not need any additional goodies, and we just want to connect the speakers and headphones to something that sounds louder, cleaner, simply better than the built-in sound card of a computer or PlayStation 4 or Nintendo Switch – just plug in the cable and do nothing else.

The real fun and demonstration of the power of Sound Blaster X3 begins with the download of additional software.

The Sound Blaster Command application can be downloaded to both personal computers and smartphones. The sound card connects to our phone via Bluetooth and we can control all its parameters from the level of the mobile application. There is mode switching, graphic equalizer and adjustment of all parameters. Of course, we can also play music wirelessly from a smartphone, which makes them a great addition not only to the computer station, but also to the living room; The Sound Blaster X3 can be e.g. connected to the console and at the same time serve as a receiver of sounds from a smartphone for listening to music.

The Sound Blaster Command application also includes the mysterious sounding "Super X-Fi" mode. It requires a bit of effort to run it, but it is worth spending a few minutes, because the effects obtained in this way are really spectacular.

Super X-Fi – how does it work?

To configure the Super X-Fi mode, you need a separate application in which we also need to create an account. We must then log in to the Sound Blaster Command application with the same account. This is to conveniently transfer the user profile once created between different devices.

After downloading the SXFI application, we can create our own sound profile. And here is a magic that I don't fully understand, but the effects of which are really amazing.

The app will ask us to take three photos: one photo of each ear and a photo of the face. It is worth asking someone for help in taking these photos, because trying to hit the circle with your ear on your own in the application can be a headache.

After scanning the ears and face, the application creates an audio profile based on our individual signature. Then the only thing left is to put on the headphones, turn on the Super X-Fi mode in the software and … collect the jaw from the floor.

Super X-Fi is primarily able to reproduce the natural holography of sound, perfectly simulating the "three-dimensional" sound, even on ordinary stereo headphones. All this is tailored to our hearing profile, which we created earlier by scanning the face and ears.

Super X-Fi makes the biggest impression in games. When I usually plug my studio headphones into my computer, they sound fine but don't provide any sense of space. Everything comes to life when you turn on Super X-Fi mode. The sound starts coming not only from the left and right, but also from the front and back, literally everywhere. Moreover, its overall quality and sound separation are also improved; in Super X-Fi mode, it is easy to distinguish between the sounds of combat and the sounds of the environment and music.

The Super X-Fi makes a similar impression in movies and this – again – even if we have ordinary stereo headphones.

Even with everyday music playback, Super X-Fi makes an amazing difference to familiar sounds. I admit, the first moments with an individual sound profile are quite specific – some frequencies are unnaturally boosted, others suddenly withdraw. But once our hearing aids get used to it, it turns out that this is the way we hear best. And after turning off the Super X-Fi mode, the sound suddenly seems to be "muddy" and coming from behind the wall.

Of course, the very parameters of the DAC and the amplifier built into the Creative Sound Blaster X3 card play a big role in this. The DAC processes sounds in 32-bit / 192 kHz quality, and the 600 OHm headphone amplifier can handle any headphone, providing them with the right dose of power. There is no comparison here with the integrated sound cards in computers and consoles – the Sound Blaster X3 simply sounds better than them, and after turning on the Super X-Fi mode it is a completely different league.

Most importantly, these experiences cost fortunes.

When Creative Sound Blaster X3 came to me for testing, I did not know the price of the device, but after a short fun I bet that it should not be lower than PLN 800-1000. This equipment sounds indecently well, and you have to pay for such quality.

Meanwhile, Creative Sound Blaster X3 costs only PLN 529. Let me repeat: just over PLN 500 for a device that completely changes the perception of sound not only when listening to music, but also when watching movies and playing games. Not only for Mac and PC, but also for PlayStation 4 and Nintendo Switch. Not only via USB-C, but also via Bluetooth. With such a reasonable price and such extensive possibilities, I cannot find a reason why I would not recommend purchasing this sound card.

* The material was created in cooperation with the Creative brand .

Incredible sound experience at an obscenely reasonable price. I checked the Creative Sound Blaster X3 card

https://ift.tt/3eUmb6w